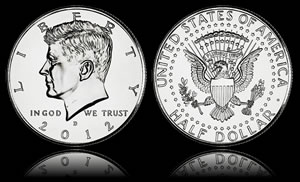 Debut sales have been reported by the United States Mint for the newly released Kennedy Half Dollars.
The U.S. Mint began selling 2012 Kennedy halves within rolls and bags on Tuesday, May 15. By Monday, May 21, collectors had ordered a total of 740,160, with products splits of 1,916 in sales from 200-coin bags and 8,924 from two-roll sets.
Sales started a tad quicker for the 2011 Kennedy halves as a combined 776,440 were ordered from their release last year on Tuesday, February 15, through to Sunday, February 20. But February is generally a more active month of collecting than May. Sales of the 50-cent coins eventually reached just over 3 million before they went off sale.
2011-2012 Kennedy Halves – Sales & Mintages
Latest Sales
Coin Total
Combined Sales
Published Mintages
2012 200-coin bag (P&D)
1,916
383,200
740,160
3,500,000
2012 2-roll set (P&D)
8,924
356,960
2011 200-coin bag (P&D)
9,455
1,891,000
3,002,280
3,450,000
2011 2-roll set (P&D)
27,763
1,110,520
2011-dated rolls went off sale when the 2012-dated halves were released. The latest sales figures indicate another 19 were sold right before that happened. The bags went off sale in February.
Half dollars have not been released into circulation since 2002. Instead, the U.S. Mint continues to produce the coins in circulation quality and then offer them in the aforementioned rolls and bags for direct collector sale.
2012 Kennedy Half Dollars may be purchased from the U.S. Mint online order page. Orders may also be placed by calling the toll free number 1-800-USA-MINT (872-6468).
Each bag is tagged with a "P" and "D," representing both mints of origin, and "$100" for the face value of its contents.
Kennedy two-roll sets include 20 circulating quality halves per roll. Each roll is packaged in a distinctive U.S. Mint paper coin wrapper and displays a "P" or "D" for mint of origin and "$10" for its face value.