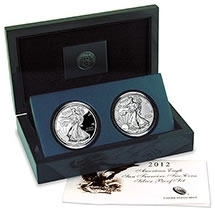 One-day unit sales of the 2012 American Silver Eagle San Francisco Set hit 85,341. That accumulates to a dollar total of $12,796,883 at the set's $149.95 price.
Released on Thursday, June 7, 2012 at noon ET, the United States Mint reported the set's debuting sales at around 2:30 PM ET on Friday, June 8, 2012. A slice of that time was filled with customers who were hard pressed to place orders due to busy customer service lines and a slow or inaccessible ordering site.
The last instance in which collectors had experienced such ordering difficulties was during the release of last year's 25th Anniversary American Silver Eagle Set. All 100,000 sold out in less than five hours. Given the similarities of release issues between both sets, it is actually a bit surprising that starting sales for this year's issue did not come closer to the 100,000 mark.
Anyone with Internet access can monitor how the San Francisco Set sets are performing. A floating banner or sales odometer is located at the top of the set's product page. The U.S. Mint indicates that it will update unit sales each weekday at around 3 PM ET.
The bureau provides qualifiers saying it is offering only an approximated total of unit orders "through all of its active sales channels" and that the data is for "informational purposes only and should not be construed to represent accepted orders or actual sales figures."
The banner also offers a countdown by displaying how many days are left to place an order.
On that subject, there are no unit limits for the 2012 American Silver Eagle San Francisco Set but its last day of sale is July 5, 2012 at 5:00 PM ET. Demand will determine the final mintage amount. Beginning shipping dates have moved at least twice, with the latest one back to the original published date of July 27, 2012.