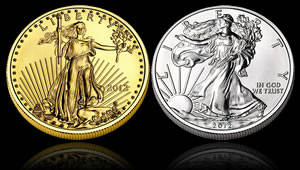 Sales of American Eagle gold and silver coins bounced back in May as plummeting precious metals prices improved bargain-hunting demand for U.S. Mint bullion products.
Gold fell 6% in May while sales of 22-karat American Eagle gold coins rallied by 53,000 ounces to more than double the 20,000 claimed by U.S. Mint authorized purchasers in April.
For the first time this year, all gold Eagle sizes advanced in a near tripling performance as a combined 71,000 coins were ordered against the prior month's 26,000.
For the year to date, 283,500 ounces have moved. Helped in part by gloomy numbers in February and April, the pace is well off that of last year when the U.S. Mint sold 514,500 ounces through the first five months.
After a dismal nearly two-week start in which sales were tracking as the worst since February 2008, American Eagle silver coins ignited to close May at 2,875,000. With support of a monthly 10.5% loss in silver, it is the best silver Eagle total since January and 89.1% higher than the 1,520,000 delivered by the U.S. Mint in April.
But yet again and in part due to lagging demand in February and April, silver Eagles in 2012 are off the mark when compared to the same period last year. The year-to-date tally stands at 14,534,000 versus 18,901,500 through the same five months in 2011. Then again, last year was a record year at 39,868,500 — the best annual total going back to the introduction of the American Eagle series in 1986.
In 24-karat American Buffalo gold coins, 9,500 ounces were ordered in May for a modest 500 pick-up over the prior month. Sales for the year are at 65,000 ounces, up from last year's five-month total of 58,500 ounces.
Finally, U.S. Mint's America the Beautiful Five Ounce Silver Bullion Coins reached 5,600 coins or 28,000 ounces in May. 200 coins or 1,000 ounces sold prior to the late month release of the first 2012-dated five ounce coin honoring El Yunque National Forest. Buyers scooped up 5,400 of them. Four more differently designed 2012-dated bullion coins are expected out later this year.
For reference, the following table provides U.S. Mint bullion coin sales by month and year-to-date.
January-May and YTD 2012 U.S. Mint Bullion Coin Sales
Jan 2012
Feb 2012
Mar 2012
Apr 2012
May 2012
YTD 2012
American Eagle Gold (1 oz)
84,500
20,000
57,500
19,000
49,000
230,000
American Eagle Gold (1/2 oz)
49,000
0
2,000
0
3,000
54,000
American Eagle Gold (1/4 oz)
38,000
2,000
0
2,000
4,000
46,000
American Eagle Gold (1/10 oz)
85,000
5,000
40,000
5,000
15,000
15035,000
American Buffalo Gold (1 oz)
13,500
7,000
26,000
9,000
9,500
65,000
America the Beautiful Silver 5 oz Coins
5,700
300
1,800
200
5,600
13,600
American Eagle Silver
6,107,000
1,490,000
2,542,000
1,520,000
2,875,000
14,534000
All coin sales in the above table are in number of coins sold, not the amount of ounces.