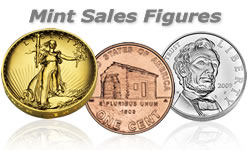 The latest US Mint sales figures has data shifting not only up, but down. Lincoln $1s and Birthplace penny roll totals were clipped lower. Braille Silver Dollars improved nicely, and the pace of Ultra High Relief (UHR) Gold coin slowed even more.
A magical correction has appeared for the Lincoln Silver Dollars. Whether it was customer returns, cancellations or Mint accounting tweaks, the proof and uncirculated sales figures are now aligned with the stars. Combined sales dropped by 15,614.
A perfect 325,000 sold is listed for the proof and an all-natural 125,000 for the uncirculated option. And with those numbers, 50,000 are left for the special 5-coin proof set the Mint will release later this year. Last week the numbers were twisted in what appeared to be an apparent oversell of coins, leaving less than 35,000 coins free for the special set.
Read the rest of this numismatic news article »
{ 1 comment }