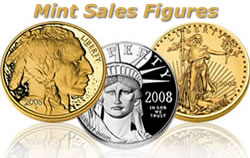 The US Mint is left with two 2008-W American Eagles gold coins in the uncirculated collector series inventory. The 1 oz option sold out Wednesday. Sales were respectable with an increase of 799, or 9.3 percent.
The biggest jumper in the series was the 1/4 oz option, rising 11.4 percent. The 1/4 oz size settled down with an increase of just 0.6% following last week's reported surge of 48.1 percent. After the current inventory is exhausted, these two coins will not be sold by the Mint again.
2009 Ultra High Relief $20 Double Eagle gold coins moved nicely, rising by 2,579, or 5.7 percent. Collectors have now purchased 47,999 UHRs since they went on sale Jan. 22.
Read the rest of this numismatic news article »
{ 0 comments }