Starting today at Noon ET, the 2023-S Proof American Silver Eagle is available for purchase from the United States Mint. The coin is priced at $80, and the U.S. Mint has set an initial household order limit of 25.
These proof coins are produced at the Mint's San Francisco facility and feature designs identical to those of the earlier released 2023-W Proof Silver Eagle from the Mint's facility at West Point, which has already achieved sales of over 550,000 units. The discernible difference between the two is the mintmark on the obverse (heads side) of each: an 'S' for the coin from San Francisco and a 'W' for the one from West Point.
Design of American Silver Eagle Proof Coin
The obverse of the coin shows the classic Walking Liberty design by Adolph A. Weinman, which originally appeared on the 1916-1947 half-dollar coin. It was reintroduced when the American Silver Eagle series kicked off in 1986. Starting in 2021, a refresh of Weinman's original design details and his traditional artist mark were added.
Liberty is shown in full stride, enveloped in folds of the flag, with her right hand extended and branches of laurel and oak in her left. Inscriptions are "LIBERTY," "IN GOD WE TRUST," and "2023."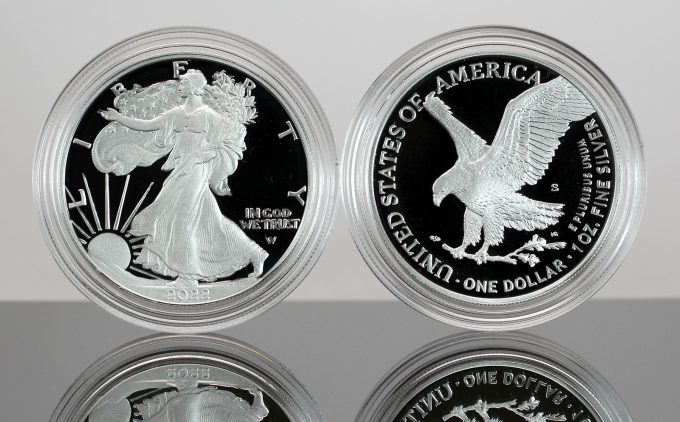 In 2021, the reverse (tails side) was replaced with a depiction of an eagle as it approaches a landing, while carrying an oak branch. This design was created by United States Mint Artistic Infusion Program Designer Emily Damstra, with United States Mint Medallic Artist Michael Gaudioso responsible for sculpting it. The reverse side also includes inscriptions that read: "UNITED STATES OF AMERICA," "E PLURIBUS UNUM," "1 OZ. FINE SILVER," and "ONE DOLLAR."
The edge of the coin contains a reeded variation as an anti-counterfeit measure.
Coin Specifications
| | |
| --- | --- |
| Denomination: | $1 |
| Composition: | 99.9% Silver |
| Weight: | 1.000 troy oz. (31.103 grams) |
| Diameter: | 1.598 inches (40.60 mm) |
| Edge: | Reeded |
| Mint and Mint Mark: | San Francisco – S |
Price and Ordering
The 2023-S Proof American Silver Eagle can be ordered by visiting the U.S. Mint's online page dedicated to American Eagle coins.
Each coin is encapsulated and placed in a black presentation box with an outer sleeve featuring an image of the coin design, and it comes with a certificate of authenticity.
No mintage or product limit has been announced.