The United States Mint will begin selling their Congratulations Set for 2023 on Thursday, March 2. Limited to 40,000 with pricing of $82, this annually issued set continues a series which was introduced in 2013.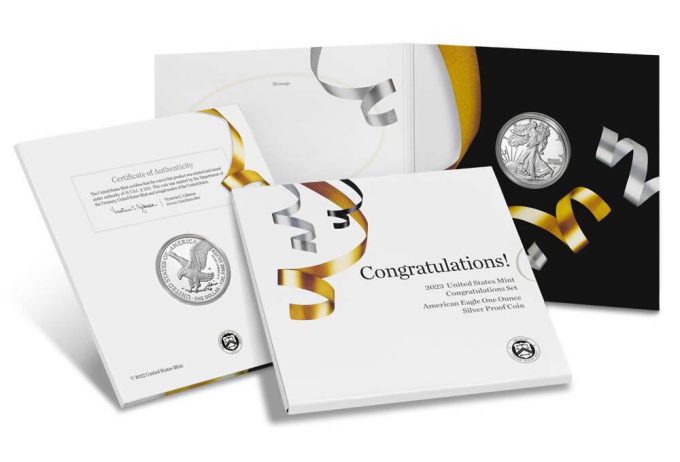 These sets are designed for use as a "thoughtful and creative gift for many occasions," highlighted by their main attraction of holding a year's American Silver Eagle minted in a collector finish of proof.
Found within this set is a 2023-W Proof Silver Eagle struck from 1-ounce of 99.9% pure silver. This is the same coin which will also be available by itself on the 2nd for $80 — $2 less than the 2023 Congratulations Set.
"The 2023 United States Mint Congratulations Set features an American Eagle Silver Proof Coin bearing the 'W' mint mark of the West Point Mint," promotes the Mint. "It's the perfect way to say 'congratulations' to special people in your life for milestone achievements and anniversaries — a meaningful and unique gift they will treasure for years to come."
Product limit for the 2023 Congratulations Set at 40,000 units marks a 10,000 increase over last year's set. This will undoubtedly help with availability. Last year, buyers competed against heightened demand for the set as the inventory for its associated individual proof Silver Eagle was claimed early.
On the flip side for buyer's is the fact that last year's 2022-W Proof American Silver Eagle had a limited mintage of 746,760 with: 500,000 of those were for the single coin; 166,760 in 40-coin allotments for bulk buyers; 30,000 for the Congratulation Set; and 50,000 for the Limited Edition Silver Proof Set. This year, the U.S. Mint has stated the proof Silver Eagle will be "minted to demand" with no formal mintage limit listed.
The proof American Silver Eagle included in the 2023 Congratulations Set is encapsulated and attached to the presentation folder with both sides visible. Like its bullion counterpart which debuted in 1986, the coin's obverse (heads side) depicts the classic Walking Liberty design by Adolph A. Weinman. Historical assets of the U.S. Mint were utilized in 2021 to celebrate the 35th anniversary of the program allowing them to enhance the design, so it more closely resembles Weinman's original intent.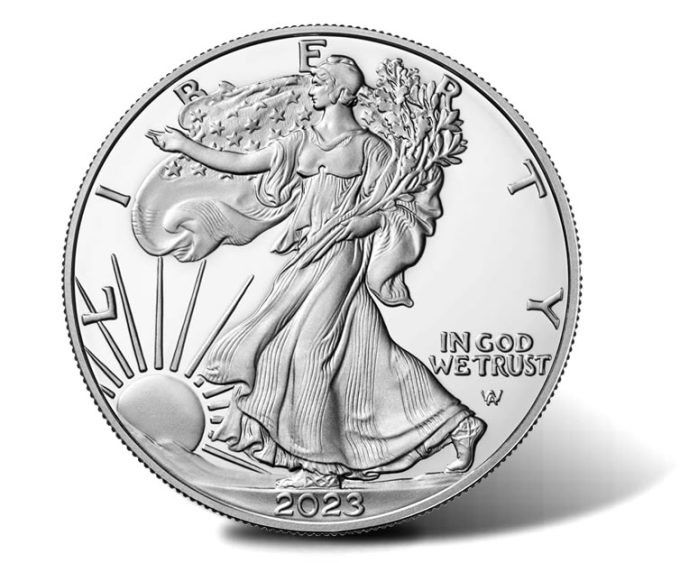 Liberty is depicted in in full stride, enveloped in folds of the flag, with her right hand extended and branches of laurel and oak in her left. Inscriptions on the obverse read "LIBERTY," "2023," and "IN GOD WE TRUST."
The coin's reverse (tails side) offers a design first seen on 2021 American Silver Eagles. It shows an eagle as it approaches a landing, carrying an oak branch, as if to add it to a nest.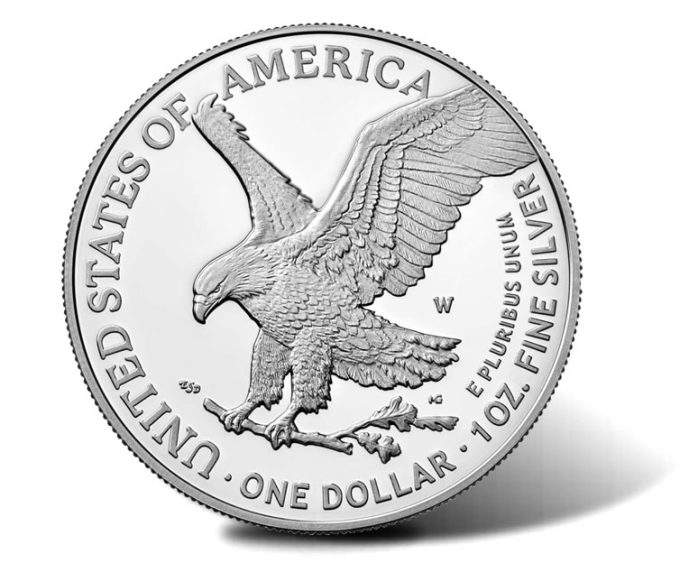 United States Mint Artistic Infusion Program Designer Emily Damstra created the design, and it was sculpted by United States Mint Medallic Artist Michael Gaudioso. Inscriptions include "UNITED STATES OF AMERICA," "E PLURIBUS UNUM," "1 OZ. FINE SILVER" and "ONE DOLLAR."
Specifications of American Silver Eagles
| | |
| --- | --- |
| Denomination: | $1 |
| Composition: | 99.9% Silver |
| Weight: | 1.000 troy oz. (31.103 grams) |
| Diameter: | 1.598 inches (40.60 mm) |
| Edge: | Reeded |
| Mint and Mint Mark: | West Point-W |
Ordering
The 2023 Congratulations Set may be ordered on the 2nd from the U.S. Mint beginning at Noon EST. Its product page is located here.
Orders are limited to three sets per household