One of the most anticipated U.S. Mint coin releases of the year happens today at noon EST with the 2023-W Proof American Silver Eagle becoming available for $80.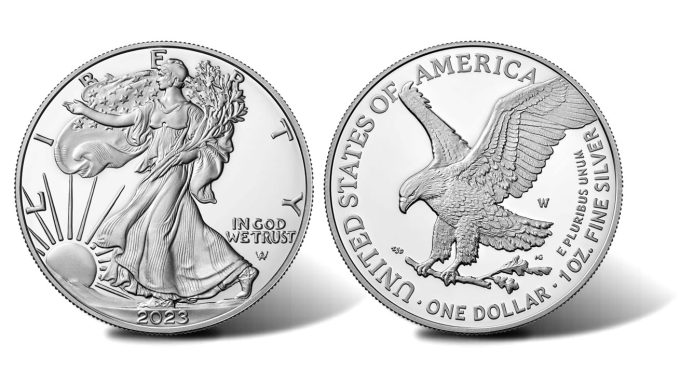 Introduced in 1986 as an annual product, these 1-ounce, .999 fine silver coins are very popular with collectors snatching up hundreds of thousands of them every year.
"Produced at the United States Mint at West Point since 1986, American Eagle Silver Proof Coins are collector versions of the official United States Mint American Eagle Silver Bullion Coins," describes the U.S. Mint. "These popular silver collectibles were updated in 2021 with a refreshed obverse (heads) and a completely redesigned reverse (tails) to mark the 35th anniversary of the American Eagle Coin Program."
This year's release may come as a welcome relief for some collectors who were left scrambling during last year's debut. Just days before the official launch of the 2022-W Proof American Silver Eagle, the Mint announced that their inventory had already been depleted by subscriptions. Some 60,000 were eventually freed up by release, and those only lasted for about a day.
Another intriguing attribute for this year's proof Silver Eagle is that no pre-announced mintage limit has been announced. In fact, the Mint's press release for the coin states within the first paragraph that it will be "minted to demand."
American Silver Eagle Designs
The Silver Eagle's obverse contains an updated likeness of Adolph A Weinman's Walking Liberty design as it first appeared on 1916-1947 half dollars. The U.S. Mint utilized historical artifacts and updated technology to refresh the design in 2021 to more closely reflect Weinman's original work.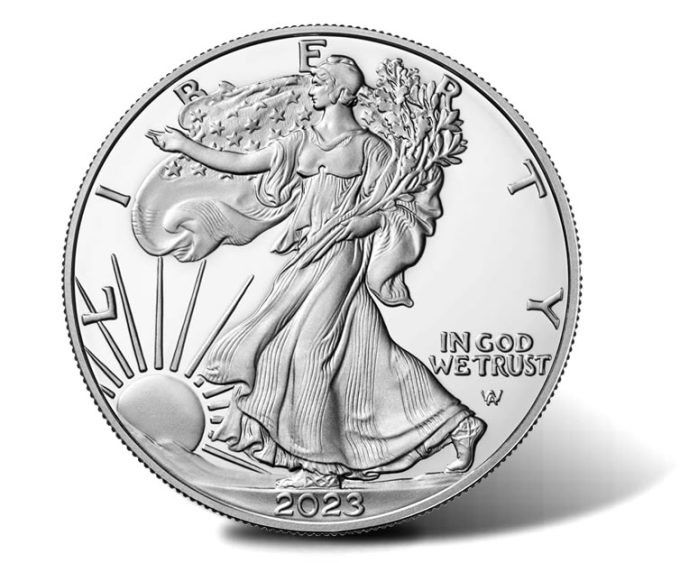 Liberty is enveloped in folds of the flag, with her right hand extended and branches of laurel and oak in her left. Inscriptions read: "LIBERTY," "2023" and "IN GOD WE TRUST."
Reverses of American Silver Eagles were revamped with a new design in 2021 for their 35th anniversary. The newer design offers an eagle as it approaches a landing, carrying an oak branch, as if to add it to a nest.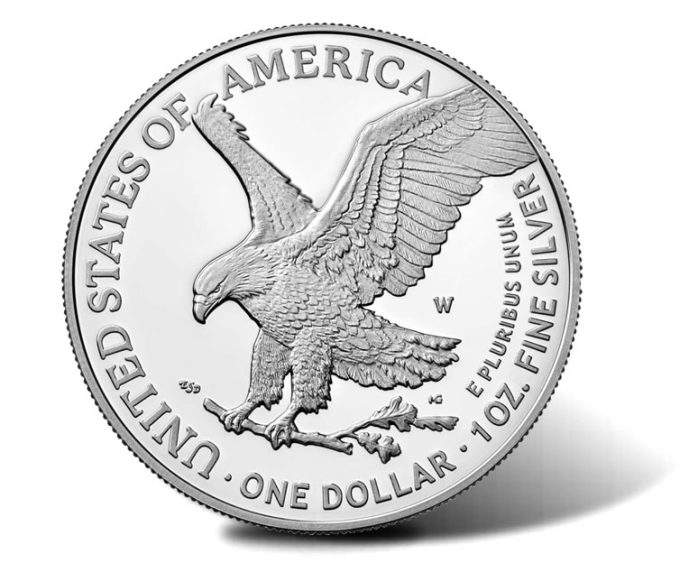 Inscriptions read: "UNITED STATES OF AMERICA," "E PLURIBUS UNUM," "1 OZ. FINE SILVER" and "ONE DOLLAR."
A reeded edge variation is included as an anti-counterfeit security measure.
Proof Silver Eagle Specifications
Denomination:
$1
Finish:
Proof
Composition:
99.9% Silver
Weight:
1.000 troy oz.
(31.103 grams)
Diameter:
1.598 inches
(40.60 mm)
Edge:
Reeded
Mint and Mint Mark:
West Point – W
Privy Mark:
none
Ordering
The 2023-W Proof American Silver Eagle may be ordered from this U.S. Mint product page.
In a related release, the U.S. Mint will also offer their 2023 Congratulations Set at noon for $82. It contains the same coin, just in different packaging.