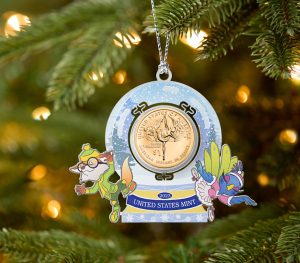 The initial set of sales data for the most recent duo of holiday ornaments from the United States Mint is now available.
Released Friday, Sept. 29, and featuring this year's Native American dollar, prominently depicting Maria Tallchief, the U.S. Mint's 2023 ornament opened with three-day sales of 2,905. Simultaneously, their 2023 Mighty Minters™ Ornament, designed for kids, began with sales of 2,046 during the same period. These sets ranked as the Mint's third and fourth best weekly sellers.
Their sales starts are lower than last year's holiday ornaments, which feature Innovation dollars. They began with three-day sales of 3,311 and 2,624.
Elsewhere, it turned out that the U.S. Marine Corps 1 Ounce Silver Medal being the top-selling medal in the Mint's Armed Forces Silver Medal Program, as mentioned in our previous sales article, was too good to be true. In its second full week of sales since its Sept. 11 release, its total plummeted by 2,256 to 16,452.
U.S. Mint Top Sellers
Here is the roster of the U.S. Mint's most sought-after numismatic products for the week ending on Oct. 1:
2023 Proof Set (+11,360 to 297,778)
2023 Silver Proof Set (+3,874 to 160,263)
2023 U.S. Mint Ornament (+2,905 to 2,905)
2023 Mighty Minters Ornament (+2,046 to 2,046)
2023-S Proof Morgan Silver Dollar (+1,940 to 313,972)
2023-S Proof Peace Silver Dollar (+1,188 to 289,151)
2023-W Proof Silver Eagle (+981 to 430,645)
2023 American Women Quarters Proof Set (+616 to 49,521)
2022 Mint Set (+614 to 241,550)
2023-W Uncirculated Silver Eagle (+442 to 129,647)
In its latest report, the U.S. Mint published sales data for 359 numismatic products.
Among these products, 106 outperformed their sales from the previous week, compared to 68 in the prior report. Not counting the newest ornaments, 4 products experienced an increase of more than 1,000 units, the same as in the previous report.
Meanwhile, 5 products experienced a decline in weekly sales, compared to 9 in the previous report. The U.S. Marine Corps 1 Ounce Silver Medal, which was already mentioned, led the reductions with 2,256, followed by the standalone 2023-P Uncirculated Morgan Silver Dollar, which fell by 56. The other three products with declines each slipped by only 1 unit.
US Mint Sales: Numismatic Products
Below are tables showing the latest available sales for U.S. Mint numismatic products. The sales period covers from Sept. 25 to Oct. 1. Products with an asterisk (*) are no longer available or had no reported sales.
Morgan & Peace Silver Dollars

Old
Sales
Latest
Sales
Gain/
Loss
%
Increase
2023-S Proof Morgan Silver Dollar
312,032
313,972
1,940
0.62%
2023-S Proof Morgan Silver Dollar (Bulk – 40 Coins)
443
443
–
–
2023-S Proof Peace Silver Dollar
287,963
289,151
1,188
0.41%
2023-S Proof Peace Silver Dollar (Bulk – 40 Coins)
438
438
–
–
2023-P Uncirculated Morgan Silver Dollar
260,598
260,543
-55
-0.02%
2023-P Uncirculated Morgan Silver Dollar (40 – Bulk)
330
330
–
–
2023-P Uncirculated Peace Silver Dollar
258,885
258,885
–
–
2023-P Uncirculated Peace Silver Dollar (40 – Bulk)
338
338
–
–

Armed Forces Silver Medals

Old
Sales
Latest
Sales
Gain/
Loss
%
Increase
U.S. Army 2.5 Ounce Silver Medal
9,988
9,988
–
–
U.S. Marine Corps 2.5 Ounce Silver Medal
9,576
9,576
–
–
U.S. Navy 2.5 Ounce Silver Medal
9,987
9,987
–
–
U.S. Coast Guard 2.5 Ounce Silver Medal
9,955
9,955
–
–
U.S. Air Force 2.5 Ounce Silver Medal
9,953
9,953
–
–
U.S. Marine Corps 1 Ounce Silver Medal
18,708
16,452
-2,256
-12.06%
U.S. Navy 1 Ounce Silver Medal
17,584
17,771
187
1.06%
U.S. Coast Guard 1 Ounce Silver Medal
16,828
16,856
28
0.17%
U.S. Air Force 1 Ounce Silver Medal
18,594
18,654
60
0.32%

American Liberty Products

Old
Sales
Latest
Sales
Gain/
Loss
%
Increase
2023-W $100 American Liberty Gold Coin
11,144
11,324
180
1.62%
2023-P American Liberty Silver Medal
26,000
26,231
231
0.89%
2022-P American Liberty Silver Medal
73,417
73,532
115
0.16%
2021-W $100 American Liberty Gold Coin
12,471
12,471
–
–
2019-W $100 American Liberty Gold Coin
24,609
24,609
–
–
2019-P American Liberty Silver Medal
44,928
44,928
–
–
2018-W $10 American Liberty Gold Coin
56,841
56,941
100
0.18%
2017 American Liberty Silver Four-Medal Set*
32,647
32,647
–
–
2017-S Enhanced Uncirculated Coin Set*
210,419
210,419
–
–
2017-W $100 American Liberty Gold Coin
38,887
38,895
8
0.02%
2017-P Proof American Liberty Silver Medal*
55,187
55,187
–
–

Clad Proof Sets

Old
Sales
Latest
Sales
Gain/
Loss
%
Increase
2023 Proof Set
286,418
297,778
11,360
3.97%
2022 Proof Set
399,950
399,949
-1
0.00%
2021 Proof Set
512,664
512,668
4
0.00%
2020 Proof Set*
464,658
464,658
–
–
2019 Proof Set*
601,327
601,327
–
–
2018 Proof Set*
517,081
517,081
–
–
2017 Proof Set*
568,678
568,678
–
–
2022 American Innovation Dollars Proof Set
76,620
76,804
184
0.24%
2021 American Innovation Dollars Proof Set
84,534
84,595
61
0.07%
2020 American Innovation Dollars Proof Set
107,052
107,052
–
–
2019 American Innovation Dollars Proof Set
146,657
146,786
129
0.09%
2023 American Women Quarters Proof Set
48,905
49,521
616
1.26%
2022 American Women Quarters Proof Set*
42,821
42,821
–
–
2020 America the Beautiful Quarters Proof Set*
64,242
64,242
–
–
2019 America the Beautiful Quarters Proof Set
83,773
83,820
47
0.06%
2018 America the Beautiful Quarters Proof Set*
86,697
86,697
–
–

Silver Proof Sets

Old
Sales
Latest
Sales
Gain/
Loss
%
Increase
2023 Silver Proof Set
156,389
160,263
3,874
2.48%
2022 Silver Proof Set
245,135
245,286
151
0.06%
2021 Silver Proof Set
301,158
301,200
42
0.01%
2020 Silver Proof Set*
313,183
313,183
–
–
2019 Silver Proof Set*
412,708
412,708
–
–
2018 Silver Proof Set*
332,274
332,274
–
–
2018 Silver Reverse Proof Set*
199,116
199,116
–
–
2023 American Women Quarters Silver Proof Set
42,162
42,281
119
0.28%
2022 American Women Quarters Silver Proof Set
57,675
57,676
1
0.00%
2020 America the Beautiful Quarters Silver Proof Set*
64,012
64,012
–
–
2019 America the Beautiful Quarters Silver Proof Set*
78,585
78,585
–
–
2018 America the Beautiful Quarters Silver Proof Set*
79,301
79,301
–
–
2023 Congratulations Gift Set
38,496
38,676
180
0.47%
2022 Congratulations Gift Set
29,710
29,710
–
–
2021 Congratulations Gift Set*
39,997
39,997
–
–
2020 Congratulations Gift Set*
24,468
24,468
–
–
2019 Congratulations Gift Set*
31,638
31,638
–
–
2022 Limited Edition Silver Proof Set
47,824
47,947
123
0.26%
2021 Limited Edition Silver Proof Set
48,712
48,712
–
–
2020 Limited Edition Silver Proof Set*
50,061
50,061
–
–

US Mint Uncirculated Sets

Old
Sales
Latest
Sales
Gain/
Loss
%
Increase
2022 Uncirculated Mint Set
240,936
241,550
614
0.25%
2021 Uncirculated Mint Set
224,891
225,053
162
0.07%
2020 Uncirculated Mint Set*
211,787
211,787
–
–
2019 Uncirculated Mint Set*
346,117
346,117
–
–
2018 Uncirculated Mint Set*
257,536
257,536
–
–
2017 Uncirculated Mint Set*
286,813
286,813
–
–

Kids Coin Sets

Old
Sales
Latest
Sales
Gain/
Loss
%
Increase
2019 Youth Coin and Currency Set
24,882
24,882
–
–
2019 Explore and Discover Coin Set
41,983
41,999
16
0.04%
2019 Rocketship*
49,921
49,921
–
–
2014 Coin Discovery Set*
13,151
13,151
–
–

Ornaments

Old
Sales
Latest
Sales
Gain/
Loss
%
Increase
2023 U.S. Mint Ornament
–
2,905
–
–
2023 Mighty Minters Ornament
–
2,046
–
–
2022 U.S. Mint Ornament
5,425
5,453
28
0.52%
2022 Mighty Minters Ornament
3,944
3,974
30
0.76%
2023 Bessie Coleman Ornament
967
968
1
0.10%
2023 Edith Kanakaʻole Ornament;
1,073
1,077
4
0.37%
2023 Eleanor Roosevelt Ornament
1,240
1,241
1
0.08%
2023 Jovita Idar Ornament
1,005
998
-7
-0.70%
2023 Maria Tallchief Ornament
1,003
1,016
13
1.30%
2022 Maya Angelou Ornament
3,040
3,051
11
0.36%
2022 Dr. Sally Ride Ornament
3,120
3,133
13
0.42%
2022 Wilma Mankiller Ornament
2,172
2,176
4
0.18%
2022 Nina Otero-Warren Ornament
1,763
1,763
–
–
2022 Anna May Wong Ornament
3,122
3,124
2
0.06%
2021 Mighty Minters Ornament
4,821
4,821
–
–
2021 U.S. Mint Ornament
7,803
7,823
20
0.26%
2020 Mighty Minters Ornament
4,480
4,495
15
0.33%
2020 U.S. Mint Ornament
6,521
6,540
19
0.29%
2019 Mighty Minters Ornament
7,005
7,026
21
0.30%
2019 U.S. Mint Ornament
11,732
11,749
17
0.14%

Proof & Reverse Proof Silver Eagles

Old
Sales
Latest
Sales
Gain/
Loss
%
Increase
2022-S Proof Silver Eagle
199,665
199,665
–
–
2022-S Proof Silver Eagle (Bulk – 40 Coins)
2,925
2,925
–
–
2023-W Proof Silver Eagle
429,664
430,645
981
0.23%
2023-W Proof Silver Eagle (Bulk – 40 Coins)
2,119
2,119
–
–
2022-W Proof Silver Eagle
496,992
496,993
1
0.00%
2022-W Proof Silver Eagle (Bulk – 40 Coins)
4,106
4,106
–
–
2021 Reverse Proof American Silver Eagle Two-Coin Set*
124,881
124,881
–
–
2021-S Proof Silver Eagle, Type 2*
199,580
199,581
1
0.00%
2021-S Proof Silver Eagle, Type 2 (Bulk – 40 Coins)*
652
652
–
–
2021-W Proof Silver Eagle, Type 2*
300,096
300,096
–
–
2021-W Proof Silver Eagle, Type 2 (Bulk – 40 Coins)*
2,142
2,142
–
–
2021-W Proof Silver Eagle, Type 1*
299,895
299,895
–
–
2021-W Proof Silver Eagle, Type 1 (Bulk – 40 Coins)*
686
686
–
–

Uncirculated Silver Eagles

Old
Sales
Latest
Sales
Gain/
Loss
%
Increase
2023
129,205
129,647
442
0.34%
2022
159,998
160,025
27
0.02%
2022 Bulk 40
987
987
–
–
2021*
174,470
174,470
–
–
2021 Bulk 40*
324
324
–
–

2023 Proof American Eagle Gold Coins

Old
Sales
Latest
Sales
Gain/
Loss
%
Increase
1 oz
6,440
6,451
11
0.17%
1/2 oz
1,998
1,998
–
–
1/4 oz
4,474
4,474
–
–
1/10 oz
13,361
13,393
32
0.24%
4-Coin Set
8,940
9,021
81
0.91%

2022 Proof American Eagle Gold Coins

Old
Sales
Latest
Sales
Gain/
Loss
%
Increase
1 oz
5,913
5,913
–
–
1/2 oz
1,970
1,970
–
–
1/4 oz
4,464
4,464
–
–
1/10 oz
13,803
13,803
–
–
4-Coin Set
9,904
9,904
–
–

Uncirculated American Eagle Gold Coins

Old
Sales
Latest
Sales
Gain/
Loss
%
Increase
2023
5,130
5,185
55
1.07%
2022
8,845
8,845
–
–
2021*
8,914
8,914
–
–
2020*
6,284
6,284
–
–
2019*
5,851
5,851
–
–
2018*
8,518
8,518
–
–
2017*
5,800
5,800
–
–

Proof American Buffalo Gold Coins

Old
Sales
Latest
Sales
Gain/
Loss
%
Increase
2023 Proof Gold Buffalo
12,751
12,812
61
0.48%
2022 Proof Gold Buffalo
15,938
15,938
–
–
2021 Proof Gold Buffalo*
16,958
16,958
–
–
2020 Proof Gold Buffalo*
11,887
11,887
–
–
2019 Proof Gold Buffalo*
14,844
14,844
–
–
2018 Proof Gold Buffalo*
15,756
15,756
–
–
2017 Proof Gold Buffalo*
15,810
15,810
–
–

Proof American Platinum Eagle

Old
Sales
Latest
Sales
Gain/
Loss
%
Increase
2023
7,911
7,929
18
0.23%
2022
9,920
9,924
4
0.04%
2021
9,884
9,884
–
–
2020
9,825
9,825
–
–
2019
11,268
11,268
–
–
2018
16,055
16,058
3
0.02%
2017*
8,890
8,890
–
–

American Palladium Eagle

Old
Sales
Latest
Sales
Gain/
Loss
%
Increase
2023-W Uncirculated
4,471
4,563
92
2.06%
2022-W Reverse Proof
7,361
7,361
–
–
2021-W Proof
5,170
5,170
–
–
2020-W Uncirculated
9,742
9,742
–
–
2019-W Reverse Proof
18,775
18,775
–
–
2018-W Proof*
14,986
14,986
–
–

Presidential Silver Medals

Old
Sales
Latest
Sales
Gain/
Loss
%
Increase
2023 Andrew Johnson Presidential Silver Medal
11,909
11,939
30
0.25%
2023 Abraham Lincoln Presidential Silver Medal
17,824
17,872
48
0.27%
2023 James Buchanan Presidential Silver Medal
12,025
12,048
23
0.19%
2021 Franklin Pierce Presidential Silver Medal
12,374
12,384
10
0.08%
2022 Millard Fillmore Presidential Silver Medal
12,521
12,527
6
0.05%
2022 Zachary Taylor Presidential Silver Medal
12,891
12,894
3
0.02%
2022 James Knox Polk Presidential Silver Medal
13,133
13,137
4
0.03%
2021 John Tyler Presidential Silver Medal
13,544
13,559
15
0.11%
2021 William Henry Harrison Presidential Silver Medal
13,487
13,491
4
0.03%
2021 Martin Van Buren Presidential Silver Medal
13,626
13,630
4
0.03%
2020 Andrew Jackson Presidential Silver Medal
16,527
16,535
8
0.05%
2019 John Quincy Adams Presidential Silver Medal
14,656
14,670
14
0.10%
2019 James Monroe Presidential Silver Medal
15,171
15,175
4
0.03%
2019 James Madison Presidential Silver Medal
16,762
16,770
8
0.05%
2019 Thomas Jefferson Presidential Silver Medal
23,981
24,001
20
0.08%
2018 George Washington Presidential Silver Medal
34,825
34,858
33
0.09%
2018 John Adams Presidential Silver Medal
23,499
23,513
14
0.06%

American Innovation Reverse Proof Sets

Old
Sales
Latest
Sales
Gain/
Loss
%
Increase
2022
48,904
49,032
128
0.26%
2021
49,539
49,539
–
–

2023 American Innovation Dollars – Mississippi

Old
Sales
Latest
Sales
Gain/
Loss
%
Increase
25-coin roll set (P)
7,041
7,105
64
0.91%
25-coin roll set (D)
6,400
6,456
56
0.88%
100-coin bag (P)
1,833
1,843
10
0.55%
100-coin bag (D)
1,802
1,818
16
0.89%

2023 American Innovation Dollars – Indiana

Old
Sales
Latest
Sales
Gain/
Loss
%
Increase
25-coin roll set (P)
8,005
8,007
2
0.02%
25-coin roll set (D)
6,983
6,982
-1
-0.01%
100-coin bag (P)
2,485
2,517
32
1.29%
100-coin bag (D)
2,539
2,584
45
1.77%

2023 American Innovation Dollars – Louisiana

Old
Sales
Latest
Sales
Gain/
Loss
%
Increase
25-coin roll set (P)
7,985
7,986
1
0.01%
25-coin roll set (D)
6,968
6,982
14
0.20%
100-coin bag (P)
2,369
2,392
23
0.97%
100-coin bag (D)
2,310
2,325
15
0.65%

2023 American Innovation Dollars – Ohio

Old
Sales
Latest
Sales
Gain/
Loss
%
Increase
25-coin roll set (P)
8,004
8,005
1
0.01%
25-coin roll set (D)
6,956
6,970
14
0.20%
100-coin bag (P)
2,877
2,895
18
0.63%
100-coin bag (D)
2,632
2,642
10
0.38%

2022 American Innovation Dollars – Tennessee

Old
Sales
Latest
Sales
Gain/
Loss
%
Increase
25-coin roll set (P)
7,013
7,013
–
–
25-coin roll set (D)
7,007
7,007
–
–
100-coin bag (P)
2,770
2,770
–
–
100-coin bag (D)
2,771
2,771
–
–

2022 American Innovation Dollars – Kentucky

Old
Sales
Latest
Sales
Gain/
Loss
%
Increase
25-coin roll set (P)
7,004
7,004
–
–
25-coin roll set (D)
6,989
6,990
1
0.01%
100-coin bag (P)
2,768
2,768
–
–
100-coin bag (D)
2,778
2,778
–
–

2022 American Innovation Dollars – Vermont

Old
Sales
Latest
Sales
Gain/
Loss
%
Increase
25-coin roll set (P)
7,023
7,023
–
–
25-coin roll set (D)
7,011
7,011
–
–
100-coin bag (P)
2,787
2,787
–
–
100-coin bag (D)
2,775
2,775
–
–

2022 American Innovation Dollars – Rhode Island

Old
Sales
Latest
Sales
Gain/
Loss
%
Increase
25-coin roll set (P)
7,010
7,010
–
–
25-coin roll set (D)
7,007
7,007
–
–
100-coin bag (P)
2,788
2,788
–
–
100-coin bag (D)
2,786
2,786
–
–

2021 American Innovation Dollars – North Carolina

Old
Sales
Latest
Sales
Gain/
Loss
%
Increase
25-coin roll set (P)
7,010
7,010
–
–
25-coin roll set (D)
7,018
7,018
–
–
100-coin bag (P)
2,789
2,789
–
–
100-coin bag (D)
2,790
2,790
–
–

2021 American Innovation Dollars – New York

Old
Sales
Latest
Sales
Gain/
Loss
%
Increase
25-coin roll set (P)
7,006
7,006
–
–
25-coin roll set (D)
7,013
7,013
–
–
100-coin bag (P)
2,786
2,786
–
–
100-coin bag (D)
2,785
2,785
–
–

2021 American Innovation Dollars – Virginia

Old
Sales
Latest
Sales
Gain/
Loss
%
Increase
25-coin roll set (P)
7,015
7,015
–
–
25-coin roll set (D)
7,010
7,010
–
–
100-coin bag (P)
2,796
2,796
–
–
100-coin bag (D)
2,786
2,786
–
–

2021 American Innovation Dollars – New Hampshire

Old
Sales
Latest
Sales
Gain/
Loss
%
Increase
25-coin roll set (P)
7,017
7,017
–
–
25-coin roll set (D)
7,018
7,018
–
–
100-coin bag (P)
2,789
2,789
–
–
100-coin bag (D)
2,790
2,790
–
–

2020 American Innovation Dollars – South Carolina

Old
Sales
Latest
Sales
Gain/
Loss
%
Increase
Reverse Proof (S)
40,892
40,916
24
0.06%
25-coin roll set (P)
6,378
6,378
–
–
25-coin roll set (D)
6,399
6,399
–
–
100-coin bag (P)
2,734
2,734
–
–
100-coin bag (D)
2,378
2,378
–
–

2020 American Innovation Dollars – Maryland

Old
Sales
Latest
Sales
Gain/
Loss
%
Increase
Reverse Proof (S)
49,724
49,724
–
–
25-coin roll set (P)
6,493
6,493
–
–
25-coin roll set (D)
6,471
6,471
–
–
100-coin bag (P)
2,725
2,725
–
–
100-coin bag (D)
2,737
2,737
–
–

2020 American Innovation Dollars – Massachusetts

Old
Sales
Latest
Sales
Gain/
Loss
%
Increase
Reverse Proof (S)
47,991
48,036
45
0.09%
25-coin roll set (P)
6,486
6,486
–
–
25-coin roll set (D)
6,481
6,481
–
–
100-coin bag (P)
2,746
2,746
–
–
100-coin bag (D)
2,744
2,744
–
–

2020 American Innovation Dollars – Connecticut

Old
Sales
Latest
Sales
Gain/
Loss
%
Increase
Reverse Proof (S)
46,402
46,418
16
0.03%
25-coin roll set (P)
6,496
6,496
–
–
25-coin roll set (D)
6,425
6,425
–
–
100-coin bag (P)
2,736
2,736
–
–
100-coin bag (D)
2,747
2,747
–
–

2019 American Innovation Dollars – Georgia

Old
Sales
Latest
Sales
Gain/
Loss
%
Increase
Reverse Proof (S)
46,699
46,717
18
0.04%
25-coin roll set (P)
7,890
7,898
8
0.10%
25-coin roll set (D)
7,370
7,378
8
0.11%
100-coin bag (P)
3,373
3,375
2
0.06%
100-coin bag (D)
3,225
3,234
9
0.28%

2019 American Innovation Dollars – New Jersey

Old
Sales
Latest
Sales
Gain/
Loss
%
Increase
Reverse Proof (S)
50,139
50,168
29
0.06%
25-coin roll set (P)
8,806
8,817
11
0.12%
25-coin roll set (D)
7,856
7,863
7
0.09%
100-coin bag (P)
3,834
3,846
12
0.31%
100-coin bag (D)
3,456
3,473
17
0.49%

2019 American Innovation Dollars – Pennsylvania

Old
Sales
Latest
Sales
Gain/
Loss
%
Increase
Reverse Proof (S)
54,613
54,633
20
0.04%
25-coin roll set (P)
10,078
10,095
17
0.17%
25-coin roll set (D)
8,330
8,338
8
0.10%
100-coin bag (P)
3,491
3,505
14
0.40%
100-coin bag (D)
2,947
2,949
2
0.07%

2019 American Innovation Dollars – Delaware

Old
Sales
Latest
Sales
Gain/
Loss
%
Increase
Reverse Proof (S)
69,904
69,928
24
0.03%
25-coin roll set (P)
8,915
8,929
14
0.16%
25-coin roll set (D)
8,221
8,229
8
0.10%
100-coin bag (P)
3,143
3,147
4
0.13%
100-coin bag (D)
3,308
3,313
5
0.15%

2018 American Innovation Dollars

Old
Sales
Latest
Sales
Gain/
Loss
%
Increase
Reverse Proof (S)*
74,720
74,720
–
–
Proof Coin (S)
252,090
252,222
132
0.05%
25-coin roll set (P)
22,291
22,311
20
0.09%
25-coin roll set (D)
25,158
25,213
55
0.22%
100-coin bag (P)*
2,935
2,935
–
–
100-coin bag (D)*
2,954
2,954
–
–

George H.W. Bush Coin & Chronicles Set

Old
Sales
Latest
Sales
Gain/
Loss
%
Increase
$1 Coin & Set
11,205
11,219
14
0.12%

2020 Bush Presidential $1 Coin & First Spouse Medal Set

Old
Sales
Latest

Sales

Gain/
Loss
%
Increase
$1 Coin & Set
9,876
9,876
–
–

2020 George H.W. Bush Presidential $1 Coins

Old
Sales
Latest
Sales
Gain/
Loss
%
Increase
25-coin roll (P)
24,900
24,905
5
0.02%
25-coin roll (D)
21,906
21,958
52
0.24%
100-coin bag (P)
2,695
2,695
–
–
100-coin bag (D)
2,098
2,098
–
–
250-coin bag (P)
2,731
2,758
27
0.99%
250-coin bag (D)
4,239
4,241
2
0.05%

Native American Dollar Rolls

Old
Sales
Latest
Sales
Gain/
Loss
%
Increase
2023-P Native American $1 25 Coin Roll
13,393
13,398
5
0.04%
2023-D Native American $1 25 Coin Roll
12,715
12,715
–
–
2023-P Native American $1 100-Coin Bag
1,690
1,690
–
–
2023-D Native American $1 100-Coin Bag
1,694
1,694
–
–
2023-P Native American $1 250-Coin Box
1,082
1,103
21
1.94%
2023-D Native American $1 250-Coin Box
1,259
1,259
–
–
2022-P Native American $1 25 Coin Roll
13,995
13,995
–
–
2022-D Native American $1 25 Coin Roll
13,919
13,922
3
0.02%
2022-P Native American $1 100-Coin Bag
1,699
1,699
–
–
2022-D Native American $1 100-Coin Bag
1,614
1,614
–
–
2022-P Native American $1 250-Coin Box
1,698
1,698
–
–
2022-D Native American $1 250-Coin Box
1,699
1,699
–
–

Kennedy Half Dollar Rolls

Old
Sales
Latest

Sales

Gain/
Loss
%
Increase
2023-dated 200-coin bag (P&D)
9,203
9,289
86
0.93%
2023-dated 2-roll set (P&D)
24,970
24,971
1
0.00%
2022-dated 200-coin bag (P&D)
10,999
10,999
–
–
2022-dated 2-roll set (P&D)
21,926
21,926
–
–
2021-dated 200-coin bag (P&D)*
9,968
9,968
–
–
2021-dated 2-roll set (P&D)*
21,989
21,989
–
–
2020-dated 200-coin bag (P&D)*
11,776
11,776
–
–
2020-dated 2-roll set (P&D)*
24,312
24,312
–
–
2019-dated 200-coin bag (P&D)*
11,534
11,534
–
–
2019-dated 2-roll set (P&D)*
24,132
24,132
–
–

2023 Jovita Idar Quarters

Old
Sales
Latest
Sales
Gain/
Loss
%
Increase
Three-Roll Set
12,539
12,555
16
0.13%
100-Coin Bag (P)
3,564
3,586
22
0.62%
100-Coin Bag (D)
3,328
3,341
13
0.39%
Two-Roll Set
3,220
3,240
20
0.62%

2023 Eleanor Roosevelt Quarters

Old
Sales
Latest
Sales
Gain/
Loss
%
Increase
Three-Roll Set
12,673
12,674
1
0.01%
100-Coin Bag (P)
4,082
4,089
7
0.17%
100-Coin Bag (D)
3,823
3,829
6
0.16%
Two-Roll Set
4,094
4,103
9
0.22%

2023 Edith Kanakaʻole Quarters

Old
Sales
Latest
Sales
Gain/
Loss
%
Increase
Three-Roll Set
12,578
12,578
–
–
100-Coin Bag (P)
6,887
6,906
19
0.28%
100-Coin Bag (D)
4,343
4,351
8
0.18%
Two-Roll Set
5,312
5,324
12
0.23%

2023 Bessie Coleman Quarters

Old
Sales
Latest
Sales
Gain/
Loss
%
Increase
Three-Roll Set
12,508
12,508
–
–
100-Coin Bag (P)
5,308
5,315
7
0.13%
100-Coin Bag (D)
4,745
4,748
3
0.06%
Two-Roll Set
5,507
5,514
7
0.13%

2022 Anna May Wong Quarters

Old
Sales
Latest
Sales
Gain/
Loss
%
Increase
Three-Roll Set
7,617
7,617
–
–
100-Coin Bag (P)
1,860
1,860
–
–
100-Coin Bag (D)
1,858
1,858
–
–
Two-Roll Set
5,936
5,936
–
–

2022 Nina Otero-Warren Quarters

Old
Sales
Latest
Sales
Gain/
Loss
%
Increase
Three-Roll Set
7,639
7,639
–
–
100-Coin Bag (P)
1,853
1,853
–
–
100-Coin Bag (D)
1,855
1,855
–
–
Two-Roll Set
5,883
5,883
–
–

2022 Wilma Mankiller Quarters

Old
Sales
Latest
Sales
Gain/
Loss
%
Increase
Three-Roll Set
7,616
7,616
–
–
100-Coin Bag (P)
1,850
1,850
–
–
100-Coin Bag (D)
1,822
1,822
–
–
Two-Roll Set
5,911
5,912
1
0.02%

2022 Dr. Sally Ride Quarters

Old
Sales
Latest
Sales
Gain/
Loss
%
Increase
Three-Roll Set
7,603
7,603
–
–
100-Coin Bag (P)
1,854
1,854
–
–
100-Coin Bag (D)
1,852
1,852
–
–
Two-Roll Set
5,926
5,926
–
–

2022 Maya Angelou Quarters

Old
Sales
Latest
Sales
Gain/
Loss
%
Increase
Three-Roll Set
7,588
7,588
–
–
100-Coin Bag (P)
1,858
1,858
–
–
100-Coin Bag (D)
1,861
1,861
–
–
Two-Roll Set
5,940
5,940
–
–