With Halloween and Thanksgiving still yet to come, the United States Mint is already planning for Christmas with today's release of two different ornaments — their 2022 United States Mint Holiday Ornament and their 2022 Mighty Minters™ Ornament.
| | |
| --- | --- |
| U.S. Mint Mighty Minters Ornament product image | U.S. Mint product image of their 2022 Ornament |
At the center of each is an uncirculated U.S. Mint 2022 American Innovation® $1 Coin for Vermont depicting a young snowboarder.
Both go on sale today beginning at Noon ET. Pricing is $29.95 for the more adult-themed ornament and $27.95 for the kids-in-mind Mighty Minters ornament.
2022 United States Mint Holiday Ornament
The latest U.S. Mint ornament is shaped like a large snowflake from solid brass with an imitation rhodium finish, resulting in some elements displaying a silver sheen. Colorizations of white, blue, and purple add to the detail of the snowflake.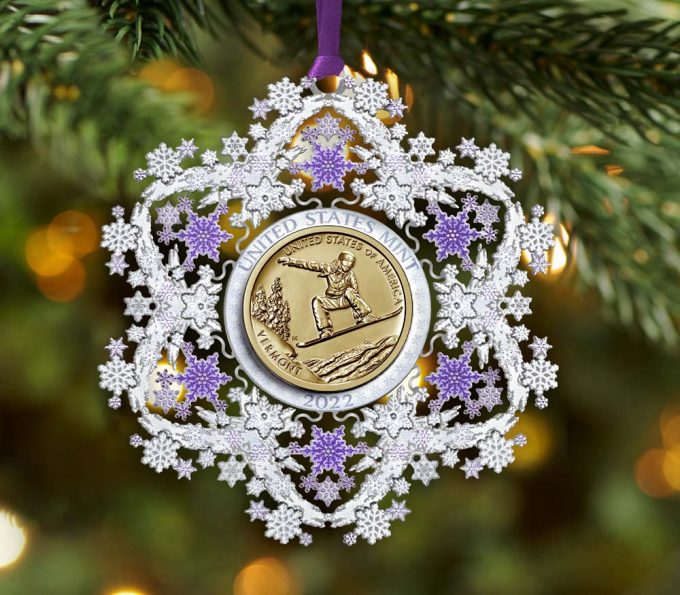 At the center is the Vermont Innovation dollar, designed by Artistic Infusion Program Designer Justin Kunz and sculpted by Medallic Artist Craig Campbell. The uncirculated $1 coin from the Philadelphia Mint depicts a young snowboarder in the air with a mountainous winter skyline behind. Shown above the coin is "UNITED STATES MINT" with "2022" below.
The back of the ornament has the U.S. Treasury Seal with Treasury at the top and United States Mint below. Each ships with a certificate of authenticity and a purple presentation case.
2022 Mighty Minters Ornament
For younger generations, the Mint's 2022 Mighty Minters Ornament may be a perfect option with its "Sing Songs of Joy" theme. Shown are three of the U.S. Mint's Mighty Minters characters — Layla, a peahen from West Point, NY; Lina from Philadelphia, PA; and Kendra from Washington, DC. The two kids are holding song books with snow-covered evergreens behind and an adorned streetlamp.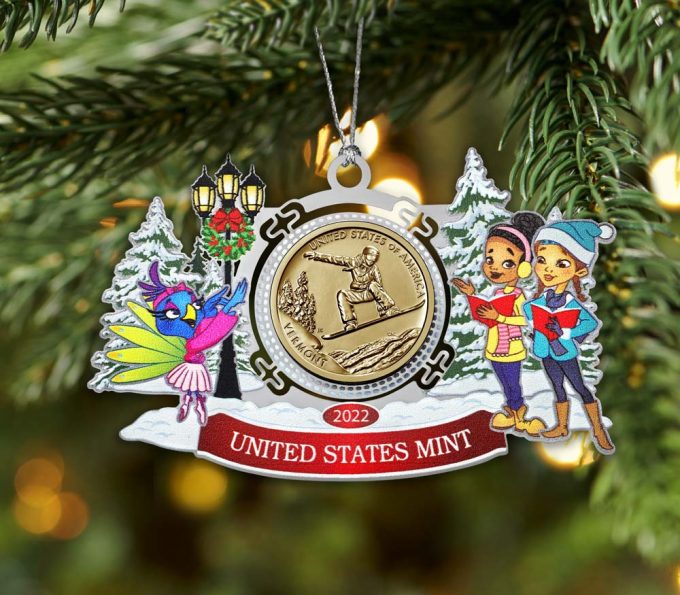 The ornament's Vermont Innovation dollar is centered with "UNITED STATES MINT" and "2022" printed below. Each is produced from solid brass and finished with the silvery sheen of imitation rhodium.
The back includes the Treasury Seal. It ships in a red presentation case.
Previous U.S. Mint Ornaments
These two new holiday ornaments appear as the most recent in a multi-year series from the U.S. Mint. Prior-year products include:
In addition, earlier this year, the U.S. Mint started selling 2022 American Women quarter dollar ornaments.
Ordering
All available ornaments from the U.S. Mint, including those from previous years, may be purchased by visiting the Mint's online store page dedicated to Collectible Ornaments.
The 2022 U.S. Mint Holiday Ornament has a maximum product limit of 8,000 with the Mighty Minters version capped at 6,250.