On Aug. 15, the United States Mint will begin shipping 2022 Nina Otero-Warren Quarters to Federal Reserve Banks and their coin terminals for distribution into circulation.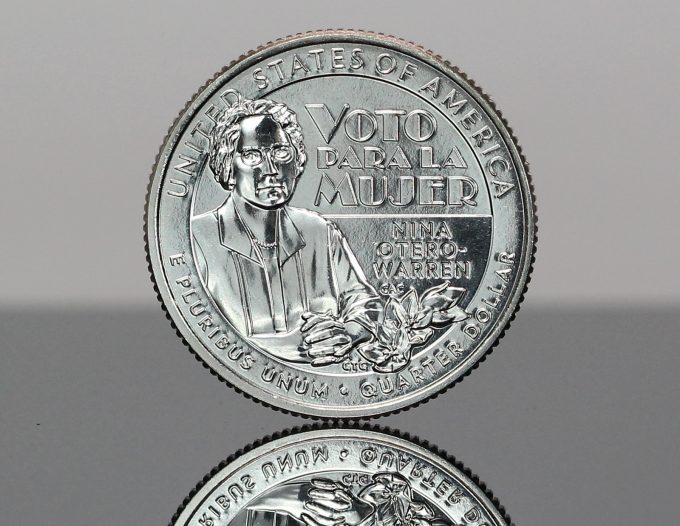 As a part of the U.S. Mint's four-year series of American Women quarter dollars, a total of five unique 2022-dated coins will be issued by year's end with designs honoring Maya Angelou, Dr. Sally Ride, Wilma Mankiller, Nina Otero-Warren and Anna May Wong.
"The fourth coin in our American Women Quarters™ Program honors Nina Otero-Warren, a courageous advocate for women, children, and Hispanic and Native American communities," said U.S. Mint Director Ventris C. Gibson. "This quarter is designed to reflect the breadth and depth of accomplishments by Nina Otero-Warren who overcame challenges and obstacles she faced during her lifetime."
Created by Chris Costello and sculpted by Craig Campbell, Nina Otero-Warren quarter reverses (tails sides) depict her on the left, flanked by three individual Yucca flowers — New Mexico's state flower. 
Obverses (heads side) of the series of quarters share a depiction of George Washington that was sculpted 90 years ago by Laura Gardin Fraser to mark Washington's 200th birthday.
Quarters for circulation are struck at U.S. Mint production facilities in Philadelphia and Denver.
Upcoming also, on Aug. 16, the Mint at https://catalog.usmint.gov/ will offer Nina Otero-Warren quarters in an uncirculated finish for collectors. Uncirculated quarters originate from the Philadelphia, Denver, and San Francisco Mints. They are hand-loaded into coining presses and struck on specially burnished blanks to a produce a brilliant finish. Product options will include a two-roll set, a three-roll set, and 100-coin bags at prices ranging from $36 to $54.