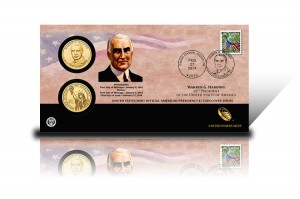 Today, Feb. 27, 2014, the United States Mint released its 2014 Warren G. Harding $1 Coin Cover for the regular price of $19.95 and the subscription price of $17.95.
This is the 29th issue from the American Presidency $1 Coin Cover Series and it honors Harding who was the 29th President of the United States.
Each coin cover has two Warren G. Harding Presidential $1 Coins that are mounted on a display card and placed within an envelope. One of the dollars is from the U.S. facility Mint in Denver, Colorado and the other is from U.S. Mint facility in Philadelphia, Pennsylvania.
These dollars are from the first day of production at their respective striking locations. The first production day at the Denver Mint was Jan. 6, 2014. The Philadelphia Mint started two days later on Jan. 8, 2014.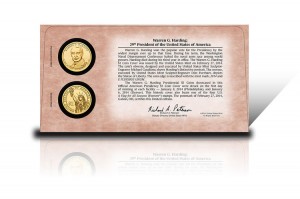 As shown by the topmost image, the face of the display card features a portrait of President Harding, a United States A Flag for All Seasons (Forever®) stamp. It also includes a postmark of Feb. 27, 2014, Galion, OH, to mark the release day of the Warren G. Harding $1 Coin Cover and the nearest city to the neighborhood of where Harding was born.
As seen to the right, backs of the coin covers display information about President Harding, the dollar coin and the cover.
Design of Warren G. Harding Presidential $1 Coin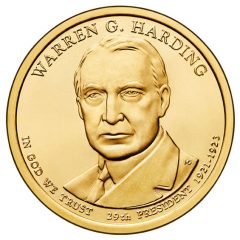 Obverses (heads side) of Warren G. Harding Presidential $1 Coins feature a profile likeness of President Harding — both designed and sculpted by Michael Gaudioso. Inscriptions appearing around the portrait read: WARREN G. HARDING, IN GOD WE TRUST, 29th PRESIDENT and 1921 – 1923.
Reverse (tails side) of all Presidential dollars have a rendition of the Statue of Liberty as designed and sculpted by Don Everhart. Surrounding inscriptions read: "United States of America" and "$1."
Other inscriptions stamped on the edge of the coin read: "2014," "E PLURIBUS UNUM," and the mint mark "P" or "D."
Ordering Details and Limits
Anyone interested may place orders for the 2014 Warren G. Harding $1 Coin Cover by visiting the United States Mints online catalog or by calling 1-800-USA-MINT (872-6468). The direct link to the Mint's product page for coin covers is:
United States Mint Product page
There will be three other coin covers issued by the Mint in 2014. These will follow roll and bag releases of 2014 dollars honoring Calvin Coolidge, Herbert Hoover and Franklin D. Roosevelt.
Each of the 2014 Presidential $1 Coin Covers have a product limit of 20,000 units. The U.S. Mint states that there are no household ordering limits, which means buyers can order as many as they like.
10% Subscription Discount
Those subscribed to receive coin covers automatically will receive a 10% discount. That brings the price of the Warren G. Harding $1 Coin Cover down $2 to $17.95. For more information about the Mint's Online Subscription Program, visit its subscription page.
Rolls and Bags of Harding Dollars
Warren G. Harding Presidential $1 Coins in rolls, bags or boxes are also available from the Mint.
Rolls are from either the Philadelphia Mint or Denver Mint for $32.95. Bags of 100 dollars are available from either facility for $111.95. Boxes of 250 coins for $275.95 are also available from either facility.