The United States Mint started shipping 2022 Wilma Mankiller quarters to Federal Reserve Banks and their coin terminals for distribution into circulation.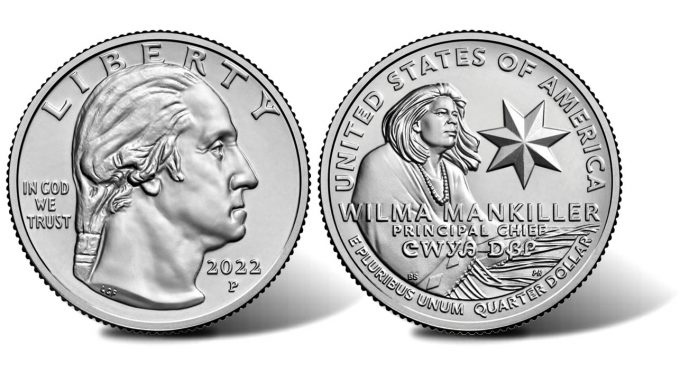 This coin is the third from their four-year American Women Quarters™ Program. For this year, a total of five unique quarters will be issued. They celebrate the achievements of Maya Angelou, Dr. Sally Ride, Wilma Mankiller, Nina Otero-Warren and Anna May Wong. (See images of the 2022 quarters.)
"It is my honor to present our Nation's first circulating coins dedicated to celebrating American women and their contributions to American history," said Mint Deputy Director Ventris C. Gibson. "Each 2022 quarter is designed to reflect the breadth and depth of accomplishments being celebrated throughout this historic coin program. Wilma Mankiller was a leader in the Cherokee Nation and a strong voice worldwide for social justice, Native people, and women."
Designed by Benjamin Sowards and sculpted by Phebe Hemphill, the Wilma Mankiller quarter depicts her with a resolute gaze to the future. The wind is at her back, and she is wrapped in a traditional shawl. To her left is the seven-pointed star of the Cherokee Nation.
Obverses (heads side) of the series of quarters share a depiction of George Washington that was sculpted 90 years ago by Laura Gardin Fraser to mark Washington's 200th birthday.
"I am proud that the new obverse design of George Washington is by one of the most prolific female sculptors of the early 20th century," Gibson said. "Laura Gardin Fraser was the first woman to design a U.S. commemorative coin, and her work is lauded in both numismatic and artistic circles."
Coins for circulation are struck at U.S. Mint production facilities in Philadelphia and Denver.
On Tuesday, June 14, the Mint at https://catalog.usmint.gov/ will also offer Wilma Mankiller quarters in an uncirculated finish for collectors. Product options will include a 2-roll set, a 3-roll set, and 100-coin bags at prices ranging from $36 to $54.
Uncirculated quarters originate from the Philadelphia, Denver, and San Francisco Mints.