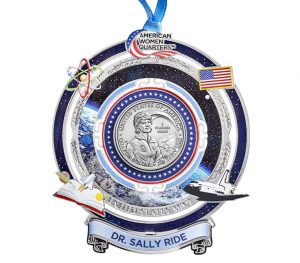 On Aug. 26, at noon ET, the United States Mint will offer five uniquely themed ornaments with each framing one of the five 2022 American Women quarter dollars. This year's quarters honor Maya Angelou, Dr. Sally Ride, Wilma Mankiller, Nina Otero-Warren and Anna May Wong for their contributions to the nation's development and history.
Each ornament is priced at $30.95 and holds an uncirculated quarter produced at the U.S. Mint facility in Philadelphia. Uncirculated coins are made for collectors. They are hand-loaded into coining presses and struck on specially burnished blanks to a produce a brilliant finish.
The Mint's product pages for the souvenirs place their limits at 5,000 apiece and without order limits.
Enrollment for the ornaments is still available as of this writing. U.S. Mint enrollments provide an easy way to keep current on products. Like a magazine subscription, new products are sent when they become available. The U.S. Mint warned several months back that many American Women quarter products were selling out, with inventories claimed early by enrollments. Back then, the agency said 3,264 ornaments remained.
Enrollment pricing is $154.75, which breaks down to the same $30.95 per ornament. The U.S. Mint offers free budge shipping for enrolled products for a savings of $4.95. It has allotted 4,360 subscriptions per quarter design with household orders limited to 25.
To learn more or to order, visit the Mint's ornament enrollment page.