One of the most popular annual products for coin collectors went on sale today at noon EDT. Featuring new two-card packaging and a total of 20 coins, the U.S. Mint's set of uncirculated coins for 2022 is available for $25.25.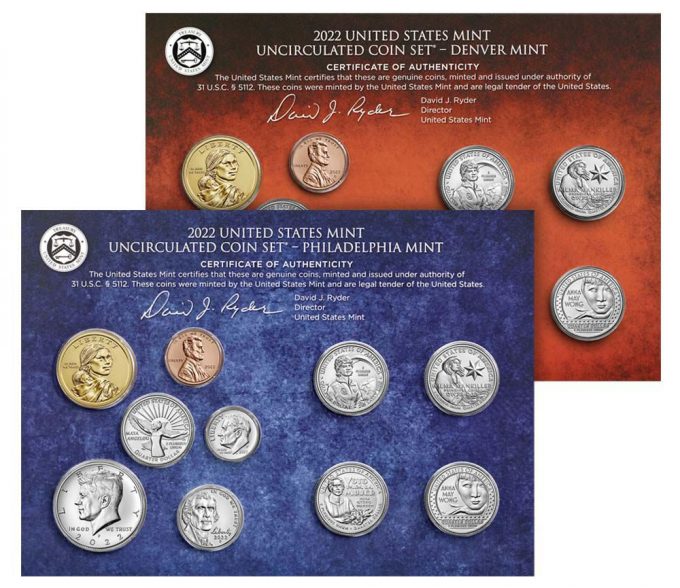 It is officially named the "2022 United States Mint Uncirculated Coin Set®." This and past issues are often called "Mint Sets" by collectors. They complement circulating coinage produced by the two U.S. minting facilities responsible for the nation's coin supply — the Philadelphia and Denver Mints.
Prior Mint Sets have their coins attached to two display folders. This year's set includes two cards with one card holding 10 uncirculated coins from the Philadelphia Mint and the other holding 10 uncirculated coins from the Denver Mint. They include:
2022 P & D Ely S. Parker Native American $1 Coins
2022 P & D Kennedy Half Dollars
2022 P & D Maya Angelou Quarters (celebrated writer, performer, and social activist)
2022 P & D Dr. Sally Ride Quarters (physicist and first American woman in space)
2022 P & D Wilma Mankiller Quarters (first woman elected principal chief of the Cherokee Nation)
2022 P & D Nina Otero-Warren Quarters (a leader in New Mexico's suffrage movement)
2022 P & D Anna May Wong Quarters (first Chinese American woman to be a Hollywood film star, director, and producer)
2022 P & D Roosevelt Dimes
2022 P & D Jefferson Nickels
2022 P & D Lincoln Cents
'P' indicates a coin produced at the Philadelphia Mint while 'D' notates coins struck at the Denver Mint.
Six Unique, 1-Year-Only Designs
The 2022 Mint Set has coins with designs only to be used this year. This includes the Native American $1 Coin which acknowledges the contributions of Ely S. Parker. Parker was a U.S. Army officer, engineer, and tribal diplomat, who served as military secretary to Ulysses S. Grant during the U.S. Civil War. While serving in that capacity, he rendered the formal surrender documents signed by Robert E. Lee at Appomattox, Virginia.
The P&D 2022 American Women quarter dollars also carry unique, one-year-only designs. The five quarters, honoring Angelou, Ride, Mankiller, Otero-Warren and Wong, are the first in a series to celebrate the accomplishments and contributions made by women to the development and history of the United States. This program is scheduled to run through 2025.
Mintage Limit
The 2022 Mint Set has a product limit of 250,000. For comparison, sales figures from recent past year's issues are as follows:
2017 Mint Set – 286,813
2018 Mint Set – 257,537
2019 Mint Set – 346,117
2020 Mint Set – 211,787
2021 Mint Set – 207,444*
*Last year's set remains available and is also priced at $25.25.
Ordering
2022 Uncirculated Coin Sets may be purchased by visiting the U.S. Mint's website page dedicated to uncirculated sets.