Featuring a total of 14 coins, the United States Mint today released their 2021 Uncirculated Coin Set for $25.25 — the same price as last year's set which sold out and has last reported sales of 211,788.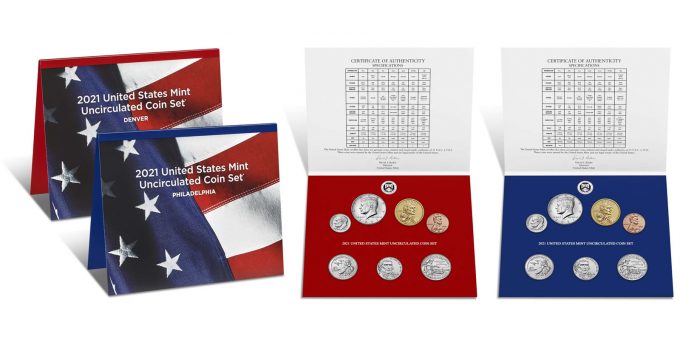 Annually issued and often called the "Mint Set" by collectors, this year's set contains 7 coins from the U.S. Mint facility in Denver and 7 coins from the U.S. Mint facility in Philadelphia. These coins mostly represent the nation's circulating coinage for the year but are offered in an uncirculated finish.
The set's complete collection of uncirculated coins includes:
2021 P&D Native Americans in the U.S. Military Native American $1 Coins
2021 P&D Kennedy Half Dollars
2021 P&D Tuskegee Airman Quarters for Alabama
2021 P&D General George Washington Crossing the Delaware Quarters
2021 P&D Roosevelt Dimes
2021 P&D Jefferson Nickels
2021 P&D Lincoln Cents
All of them come attached to presentation folders with the Philadelphia Mint-produced coins in a blue folder and the Denver Mint-produced coins in a red folder. The set is accompanied by a U.S. Mint Certificate of Authenticity.
Three Unique, 1-Year-Only Designs
The Tuskegee Airman quarter for Alabama features the final design from the Mint's 56-coin series of America the Beautiful quarter dollars.
The General George Washington Crossing the Delaware design will not last long either as it will be replaced in 2022 with the debut of the four-year program of quarters honoring contributions made by women to the development and history of the nation.
Native American dollars offer single-year reverse designs. This year's design celebrates Native American military service.
No Mintage or Other Limits
According to the U.S. Mint, there is no mintage, household or order limits in place for the uncirculated 2021 Mint Set. This marks a return to standard policy which was bypassed last year due to adjustments made for the COVID-19 pandemic.
Last year's set launched with a product limit of 213,000, making it immediately one of the scarcest in the set's program history. It holds six more coins (all quarters as 2020 was the last full year for Mint's series of America the Beautiful quarters dollars).
The 2019 Mint Set, which also has twenty coins, made its debut at $21.95 and ended with sales of 346,117.
Ordering
The 2021 Uncirculated Coin Set may be purchased by visiting the U.S. Mint's website page dedicated to uncirculated sets.