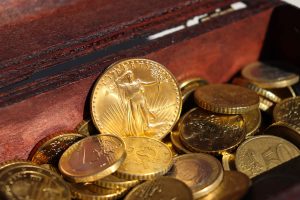 Most precious metals closed higher Friday, but most — including gold — still ended down on the week and month. Silver, notably, fell again, extending its string of losses to nine straight, and posted the sharpest weekly and monthly declines.
On Friday, gold for June delivery tacked on $20.40, or 1.1%, to settle at $1,911.70 an ounce on the Comex division of the New York Mercantile Exchange.
"The price of gold was crushed this week with the dollar rising strongly, which we think may be attributed to a steep selloff in the equity markets," MarketWatch quoted Peter Cardillo, chief market economist at Spartan Capital Securities, in a note.

"From a technical perspective, the market has undergone a serious setback. While the war and inflation factors make a solid case for gold to advance to new highs, the above combination we mentioned seems to be a depressing factor for the metal," he wrote.
Gold prices logged losses of 1.2% this week and 2.2% in April. On Wednesday, the yellow metal at $1,888.70 an ounce registered its lowest settlement since Feb. 25. Gold trimmed its year-to-date gain to 4.5%.
In looking ahead to next week, Kitco News offers the following forecasts via their Wall Street & Main Street surveys:
"This week 17 Wall Street analysts participated in Kitco News' gold survey. Among the participants, nine analysts, or 53%, called for gold prices to rise next week. At the same time, four analysts, or 25%, were bearish on gold in the near term, and three analysts, or 18%, were neutral on prices.

Meanwhile, 904 votes were cast in online Main Street polls. Of these, 446 respondents, or 49%, looked for gold to rise next week. Another 306, or 34%, said lower, while 152 voters, or 17%, were neutral in the near term."
Meanwhile, silver for July delivery shed 9.6 cents, or 0.4%, to close at $23.085 an ounce. The settlement was silver's weakest since it closed Feb. 7 at $23.076 an ounce. Silver posted losses of 4.8% on the week and 8.2% for the month. Prices are 1.1% lower on the year.
In PGM futures on Friday, for the week and in April:
July platinum added $28.50, or 3.1%, to end at $939.60 an ounce, climbing 1.3% on the week but registering a 5.6% monthly decline.

Palladium for June delivery added $96.90, or 4.4%, to $2,307 an ounce, falling 2.9% on the week but advancing 2.3% in April.
The two are split on the year so far with platinum down 2.8% and palladium ahead 20.7%.
US Mint Bullion Sales in 2022
U.S. Mint bullion sales in April slowed for gold, silver, and platinum coins. In headline monthly comparisons:
American Eagle gold coins advanced 88,000 ounces in April, falling 43.4% from 155,500 ounces in March and rising 128.6% from 38,500 ounces in April 2021. American Gold Eagle sales for the year to date at 514,500 ounces are 14.2% higher than the 450,500 ounces sold in the same period last year.

American Eagle silver coins increased 850,000 ounces last month, marking declines of 21.3% from 1,080,500 ounces in March and 19.3% from 1,053,000 ounces in April of last year. 2022 American Silver Eagle sales at 8,431,500 ounces are down 35.7% from the 13,106,500 ounces sold during in the first four months of last year.

American Buffalo gold coins advanced 27,000 ounces in April, falling 58.1% from 64,500 ounces in March but rising 145.5% from 11,000 ounces in April 2021. American Gold Buffalo sales for the year at 181,500 ounces are 48.8% higher than the 122,000 ounces sold in the same period last year last year.

The American Eagle platinum coin lacked movement in April. It rose 14,200 ounces in March and 25,800 ounces in February for a 2022 total so far of 40,000 ounces. Last year's edition logged gains of 35,000 in March and 40,000 ounces in May for a 2021 total of 75,000 ounces.
Below is a sales breakdown of U.S. Mint bullion products with columns listing the number of coins sold during varying periods.
US Mint Bullion Sales (# of coins)
Friday
Last Week
This Week
February
March
April
2022 Sales
$50 American Eagle 1 Oz Gold Coin
0
39,500
19,500
86,000
140,500
80,500
430,500
$25 American Eagle 1/2 Oz Gold Coin
0
2,000
0
0
5,000
3,000
53,000
$10 American Eagle 1/4 Oz Gold Coin
0
8,000
0
4,000
20,000
14,000
102,000
$5 American Eagle 1/10 Oz Gold Coin
0
0
0
25,000
75,000
25,000
320,000
$50 American Buffalo 1 Oz Gold Coin
0
10,000
10,000
28,500
64,500
27,000
181,500
$1 American Eagle 1 Oz Silver Coin
0
408,000
17,000
1,500,000
1,080,500
850,000
8,431,500
$100 American Eagle 1 Oz Platinum Coin
0
0
0
25,800
14,200
0
40,000
$25 American Eagle 1 Oz Palladium Coin
0
0
0
0
0
0
0