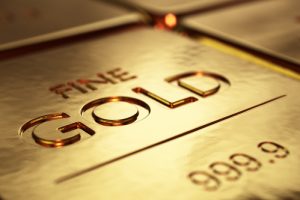 Gold and silver prices declined for a fifth straight session Thursday, although both metals still scored sharp monthly gains. Platinum and palladium advanced on the day but only former posted an increase in April. Palladium for the month dropped over 15%.
Gold for June delivery declined $19.20, or 1.1%, to settle at $1,694.20 an ounce on the Comex division of the New York Mercantile Exchange.
For gold, the "two key factors to follow are interest rates and inflation expectations as they are the inputs for the equation to calculate real interest rates and ultimately, real interest rates have a major impact on gold's appeal as a safe haven asset," MarketWatch quoted Tyler Richey, co-editor at Sevens Report Research. If real interest rates are rising, then short term Treasurys "become more appealing as they provide a yield, but if real rates are falling, as they did for much of Q1, then gold becomes a better store of risk-off capital."
Gold futures rallied 6.1% this month after rising 1.9% in March. They declined 1.3% in February after surging 4.3% in January. The yellow metal is 11.2% higher on the year to date.
Silver for July delivery lost 34.2 cents, or 2.2%, to settle at $14.973 an ounce. Silver futures gained 5.8% in April following losses of 14% in March and 8.6% in February. They edged 0.5% higher in January. The precious metal is 16.5% lower on the year.
In other precious metals futures prices on Thursday and for the month:
July platinum rose $13.40, or 1.7%, to $813 an ounce, for a 11.4% monthly increase.

Palladium for June delivery added $38.60, or 2%, to $1,956 an ounce, trimming its loss in April to 15.1%.
The pair is divided on the year so far with platinum down 16.9% and palladium up 2.4%.
London Precious Metals Prices (LBMA)
London precious metals prices split on Thursday and were mostly higher for the month. In comparing their levels from Wednesday PM to Thursday PM:
Gold shed 60 cents, or 0.04%, to $1,702.75 an ounce.
Silver added 17 cents, or 1.1%, to $15.335 an ounce.
Platinum declined $13, or 1.7%, to $767 an ounce.
Palladium added $54, or 2.8%, to $1,986 an ounce.
In LBMA monthly results, prices rose 5.8% for gold, 10.1% for silver and 5.5% for platinum while they declined 13.9% for palladium.
US Mint Bullion Sales in 2020
Sales of United States Mint bullion gold and silver coins slowed in April from March but grew from a year earlier. In headline comparisons:
American Eagle gold coins reached 105,000 ounces in April, down 30.7% from the 151,500 ounces sold in March and 950% higher than the 10,000 ounces sold in April 2019. Year to date, American Gold Eagle sales at 323,500 ounces are 223.5% higher than the 100,000 ounces sold during the first four months of last year.

American Eagle silver coins rose by 750,000 ounces in April, marking declines of 86.3% from the March total of 5,482,500 ounces and 37.3% from the 1,196,000 ounces sold in April 2019. American Silver Eagle sales for the year so far at 10,728,500 coins are 32.1% higher than the 8,121,000 coins sold through the same time last year.

American Buffalo gold coins climbed by 28,500 ounces in April, compared to 65,500 ounces in March, lifting their year-to-date total of 116,000 ounces. In 2019, April sales of the coins totaled 6,500 ounces and their starting four-month level reached 41,500 ounces.

American Platinum Eagles advanced in April by 1,500 coins, compared to 31,200 coin in March, for a four-month 2020 total of 56,500 coins. Last year's edition logged April sales of 6,500 coins for an opening four-month (and final 2019) total of 40,000 coins.
Below is a sales breakdown of U.S. Mint bullion products with columns listing the number of coins sold during varying periods.
US Mint Bullion Sales (# of coins)
Thursday
Last Week
This Week
January
February
March
April
2020 Sales
$50 American Eagle 1 Oz Gold Coin
1,000
36,000
12,500
38,000
3,500
133,000
105,000
279,500
$25 American Eagle 1/2 Oz Gold Coin
0
0
0
23,000
2,000
8,000
0
33,000
$10 American Eagle 1/4 Oz Gold Coin
0
0
0
18,000
2,000
20,000
0
40,000
$5 American Eagle 1/10 Oz Gold Coin
0
0
0
60,000
20,000
95,000
0
175,000
$50 American Buffalo 1 Oz Gold Coin
1,000
12,000
12,500
21,000
1,000
65,500
28,500
116,000
$1 American Eagle 1 Oz Silver Coin
0
0
400,000
3,846,000
650,000
5,482,500
750,000
10,728,500
$1 American Eagle 1 Oz Platinum Coin
0
0
0
14,500
9,300
31,200
1,500
56,500
In terms of 5-ounce silver bullion sales for 2020, the U.S. Mint is working on getting them automated and reported. Initial U.S. Mint-provided figures have the first two 2020-dated pieces at 45,000 produced and sold per issue. These amounts are being verified.