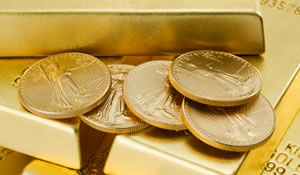 Precious metals tumbled Friday, cementing their across-the-board weekly losses even after several of them registered milestone highs earlier in the week. All but palladium posted declines in February.
Gold for April delivery on Friday sank $75.80, or 4.6%, to settle at $1,566.70 an ounce on the Comex division of the New York Mercantile Exchange.
"Investors absolutely see gold as a safe-haven, but the yellow metal is now succumbing to deleveraging pressure," MarketWatch quoted Peter Grant, vice president of precious metals at Zaner Metals. "This is when investors sell profitable positions to raise cash during a market rout. Frequently the cash is used to cover margin calls in other markets."
MarketWatch also noted that gold's movement on Friday was its largest one-day percentage fall since June, 2013.
Gold futures traded 5% lower this week after increases of 3.9% last week and 0.8% for the week ended Feb. 14. Gold prices gave back 1.3% for the month, reducing their year-to-date gain to 2.9%. On Monday, the yellow metal ended at $1,676.60 an ounce for its strongest settlement since Feb. 6, 2013.
In looking ahead to next week, Kitco News offers the following forecasts via their Wall Street & Main Street surveys:
"Fifteen market professionals took part in the Wall Street survey. Seven, or 47%, called for gold to rise. Five voters, or 33%, called for further weakness. Three respondents, or 20%, were either neutral or predicted sideways prices.

Meanwhile, 1,619 votes were cast in an online Main Street poll, which was the most in 2 ½ years. A total of 1,079 voters, or 67%, looked for gold to rise in the next week. Another 303, or 19%, said lower, while 237, or 15%, were neutral."
Elsewhere, silver for March delivery plunged $1.278, or 7.2%, to settle at $16.457 an ounce. Silver futures traded 11.2% lower this week following gains of 4.5% last week and 0.2% for the week ended Feb. 14. They dropped 8.6% for the month and are 8.2% lower on the year. As recently as Monday, the precious metal ended at  $18.876 an ounce for its best finish since Sept. 4.
In PGM futures on Friday and for the week:
April platinum fell $40.80, or 4.5%, to $864.70 an ounce, for a 11.4% weekly loss.

Palladium for June delivery tumbled $220.60, or 8.1%, to $2,491.10 an ounce, for a 4.4% weekly decline. On Thursday, palladium scored a record settlement at $2,711.70 an ounce.
For the month, platinum fell 10.1% while palladium soared 12%. The two are also divided on the year so far with platinum down 11.6% and palladium up 30.5%.
London Precious Metals Prices
London precious metals prices declined on Friday, they were mostly lower on the week, and they divided on the month. In comparing their levels from Thursday PM to Friday PM:
Gold fell $42.15, or 2.6%, to $1,609.85 an ounce.
Silver dropped 86.5 cents, or 4.8%, to $17.185 an ounce.
Platinum sank $41, or 4.5%, to $871 an ounce.
Palladium declined $36, or 1.3%, to $2,719 an ounce.
In LBMA weekly results, palladium rose 1.1% with the others logged losses totaling 2% for gold, 7.4% for silver, and 10.8% for platinum.
As for the month, gold gained 1.6% and palladium jumped 18.5% while silver fell 3.9% and platinum declined 9.2%.
US Mint Bullion Sales in 2020
United States Mint sales of American Eagle and Buffalo bullion coins slowed in February, taking an expected break from their quickened pace in January when the newly 2020-dated versions launched. For the most part, U.S. Mint bullion sales were also down from a year ago. In headline comparisons:
American Eagle gold coins reached 7,000 ounces, registering declines of 88.3% from the 60,000 ounces sold in January and 46.2% from the 13,000 ounces sold in February 2019. For the year so far, Gold Eagle sales at 67,000 ounces are 14.7% lower than the 78,500 ounces delivered during the first two months of last year.

American Eagle silver coins rose by 650,000 ounces, marking declines of 83.1% from January's total of 3,846,000 ounces and 68.4% from the 2,057,500 ounces moved in February of last year. Silver Eagle sales for the year so far at 4,496,000 are 26% lower than the 6,075,000 coins sold through the same time in 2019.

American Buffalo gold coins rose by 1,000 ounces in February for a year-to-date total of 22,000 ounces. In 2019, February sales of the coins totaled 6,000 ounces and their starting two-month total reached 29,500 ounces.

American Platinum Eagles advanced in February by 9,300 coins for a year-to-date total of 23,800 coins. Last year's edition garnered February sales of 2,400 coins for a starting two-month total of 29,500 coins.
Below is a sales breakdown of U.S. Mint bullion products with columns listing the number of coins sold during varying periods.
US Mint Bullion Sales (# of coins)
Friday
December
January
February
2020 Sales
$50 American Eagle 1 Oz Gold Coin
0
2,000
38,000
3,500
41,500
$25 American Eagle 1/2 Oz Gold Coin
2,000
0
23,000
2,000
25,000
$10 American Eagle 1/4 Oz Gold Coin
0
0
18,000
2,000
20,000
$5 American Eagle 1/10 Oz Gold Coin
0
0
60,000
20,000
80,000
$50 American Buffalo 1 Oz Gold Coin
1,000
1,500
21,000
1,000
22,000
$1 American Eagle 1 Oz Silver Coin
25,000
0
3,846,000
650,000
4,496,000
$1 American Eagle 1 Oz Platinum Coin
1,000
0
14,500
9,300
23,800