North Carolina American Innovation dollars debut today from the United States Mint. The new $1 coin is now available in 25-coin rolls and 100-coin bags with each strike carrying an uncirculated finish.
| | |
| --- | --- |
| U.S. Mint image showing a roll of 2021-P North Carolina American Innovation dollars | U.S. Mint image showing a bag of 2021-D North Carolina American Innovation dollars |
This dollar is the last of four to be issued in 2021 as part of the the U.S. Mint's American Innovation® $1 Coin Program. The series was introduced with a single coin in 2018 and since features four unique designs annually. Altogether, when completed, the program will have celebrated an innovation or innovator from each state, the District of Columbia and the five U.S. territories.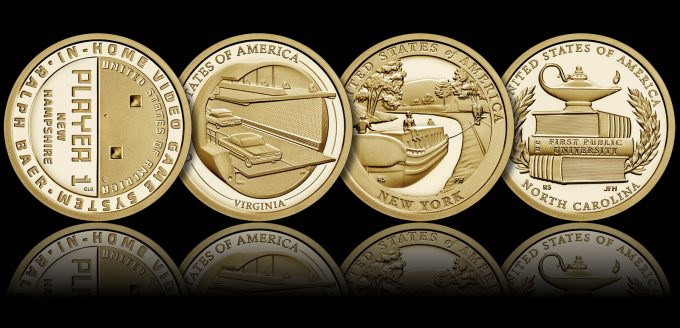 As for the North Carolina dollar, it offers a reverse (tails side) design emblematic of the University of North Carolina at Chapel Hill. This location is noted for being the nation's first public institution of higher learning, opening in 1795, and the only public institution to confer degrees in the 18th century.
Designs for the North Carolina Innovation Dollars
Designed by Ronald D. Sanders and sculpted by Joseph Menna, the new dollar's reverse shows a stack of three textbooks with "First Public University" on the spine of the middle book.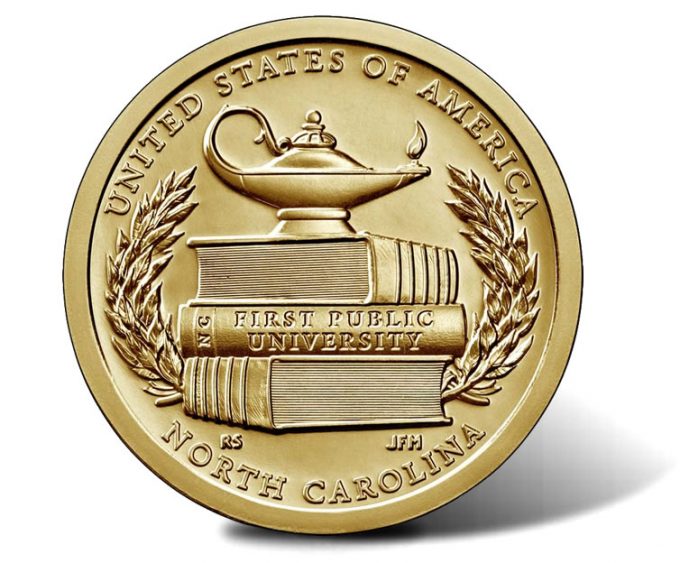 A lamp of knowledge appears on top of the books and olive branches curve around the edge of the design. Reverse inscriptions include "UNITED STATES OF AMERICA" and "NORTH CAROLINA."
The obverse (heads side) of all American Innovation $1 Coins bear the same basic design — a dramatic representation of the Statue of Liberty in profile. It was created by Justin Kunz and sculpted by Phebe Hemphill. Reverse inscriptions read: "IN GOD WE TRUST" and "$1."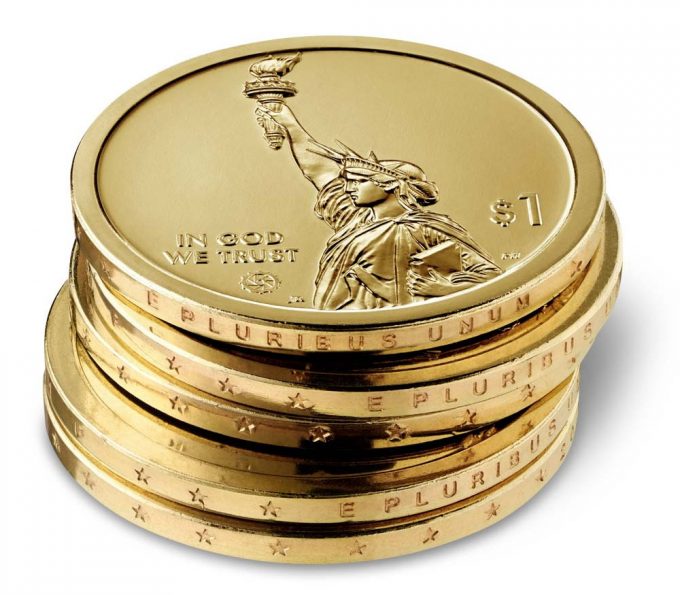 Obverses also carry a privy mark of a stylized gear, representing industry and innovation. The gear's depiction is unique to the four 2021 dollars.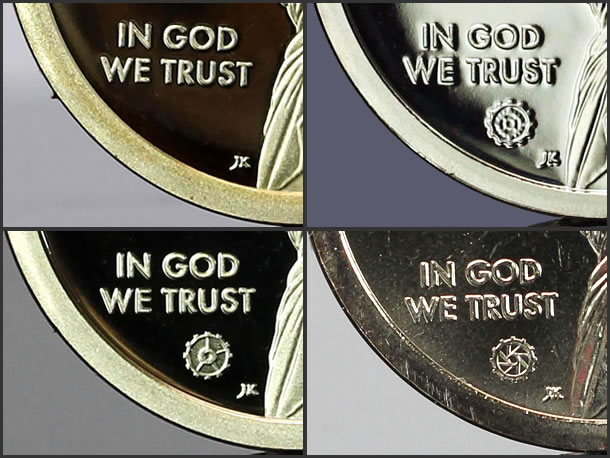 Coins of the program also bear edge inscriptions which, in this case, include the year "2021," a mint mark of "D" or "P" for the Denver and Philadelphia Mints, and "E PLURIBUS UNUM."
Prices and Ordering
25-coin rolls may be purchased for $34.50 with 100-coin bags for $117.50 each. Options include coins produced at the U.S. Mint facilities in Denver or Philadelphia.
Orders are accepted from the U.S. Mint's online store for American Innovation products.
About the Series
As mentioned, a single coin in 2018 started this series. Since then, and until completed in 2032, four new issues have and will appear annually until all 56 locations of the program are represented. To date, the series includes:
2018 Introductory George Washington Innovation $1 Coin
2019 Delaware Classifying the Stars $1 Coin
2019 Pennsylvania Polio Vaccine $1 Coin
2019 New Jersey Light Bulb $1 Coin
2019 Georgia Trustees' Garden $1 Coin
2020 Connecticut Gerber Variable Scale $1 Coin
2020 Massachusetts Telephone $1 Coin
2020 Maryland Hubble Space Telescope $1 Coin
2020 South Carolina Septima Clark $1 Coin
2021 New Hampshire Home Video Game System $1 Coin
2021 Virginia Chesapeake Bay Bridge-Tunnel $1 Coin
2021 New York Erie Canal $1 Coin
and this, 2021 North Carolina Innovation $1 Coin
Next year, the program will honor innovation in the states of Rhode Island, Vermont, Kentucky and Tennessee. The Mint just unveiled the 2022-dated dollar designs.