Educator and civil rights activist Septima Poinsette Clark is featured on the latest U.S dollar, which honors innovation in South Carolina.
| | |
| --- | --- |
| U.S. Mint image showing a roll of 2020-P South Carolina American Innovation dollars | U.S. Mint image showing a bag of 2020-D South CarolinaAmerican Innovation dollars |
South Carolina American Innovation dollars are now available in 25-coin rolls and 100-coin bags. Each product includes uncirculated coins from the Philadelphia or Denver Mints. They are issued as part of the U.S. Mint's American Innovation™ $1 Coin Program and appear as the final of four Innovation $1 designs for 2020.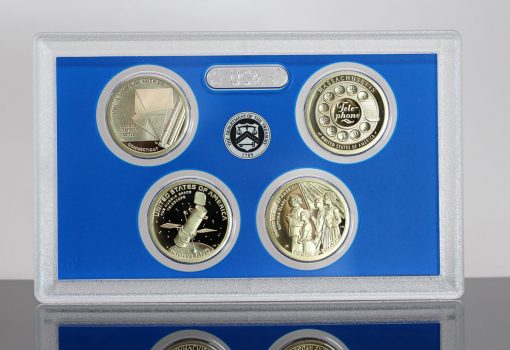 Septima Clark was born May 3, 1898, in Charleston, SC. She obtained her bachelor's degree at Benedict College and master's at Hampton Institute. Following, that she received her teaching license, but laws at the time prevented African Americans from teaching in public schools. As such, she took various other instructing and administrative positions at Avery Normal Institute and the Tennessee's Highlander Folk School.
At the Tennessee's Highlander Folk School, she served as director of its citizen school program. Her efforts there and following led to the establishment of more than 800 citizenship schools.
Designs for South Carolina American Innovation Dollar
Shown on the reverse (tails side) of each $1 coin is a design showing Ms. Clark marching with three young African American students who carry books and an American flag, representing the link between education and literacy and their need to attain empowerment and enjoyment of civil rights.
Reverse inscriptions include "UNITED STATES OF AMERICA," "SEPTIMA CLARK," and "SOUTH CAROLINA." The design was created by U.S. Mint artist Justin Kunz and sculpted by Phebe Hemphill.
All coins in the Innovation series bear the same obverse (heads side) Statue of Liberty design along with the inscriptions "$1" and "IN GOD WE TRUST." Kunz created and Hemphill sculpted the image. A small privy mark of a stylized gear is also shown on the obverse.
Edge inscriptions include "2020," a mint mark, and "E PLURIBUS UNUM."
Price and Ordering
Each 25-coin roll may be purchased for $34.50 with the 100-coin bags priced $117.50 each. They may be ordered from the U.S. Mint's online store for American Innovation products.
About the Series
The American Innovation $1 coins debuted in 2018 with a single release. Following, and through 2032, four new coins are scheduled annually with each honoring a different innovation or innovators with one showcased from each state, the District of Columbia and the five U.S. territories.
To date, the series includes:
2018 Introductory George Washington Innovation $1 Coin
2019 Delaware Classifying the Stars $1 Coin
2019 Pennsylvania Polio Vaccine $1 Coin
2019 New Jersey Light Bulb $1 Coin
2019 Georgia Trustees' Garden $1 Coin
2020 Connecticut Gerber Variable Scale $1 Coin
2020 Massachusetts Telephone $1 Coin
2020 Maryland Hubble Space Telescope $1 Coin
2020 South Carolina Septima Clark $1 Coin
The first of the four 2021-dated dollars is scheduled for release in spring.