Virginia American Innovation dollars are now available. Carrying an uncirculated finish, this newest dollar may be purchased directly from the United States Mint in 25-coin rolls and 100-coin bags. The rolls and bags are filled with dollars produced at the Philadelphia and Denver Mints.
| | |
| --- | --- |
| U.S. Mint image showing a roll of 2021-P Virginia American Innovation dollars | U.S. Mint image showing a bag of 2021-D Virginia American Innovation dollars |
Each $1 coin offers a reverse (tails side) design depicting the Chesapeake Bay Bridge-Tunnel. The 17-plus mile bridge tunnel complex is recognized as an engineering wonder of the modern world.
The Virginia dollar appears as the second of four issues in 2021 as part of the Mint's American Innovation® $1 Coin Program which honors innovation and innovators from each of the 50 states, the District of Columbia and the five U. S. territories — Puerto Rico, Guam, American Samoa, the U.S. Virgin Islands, and the Northern Mariana Islands.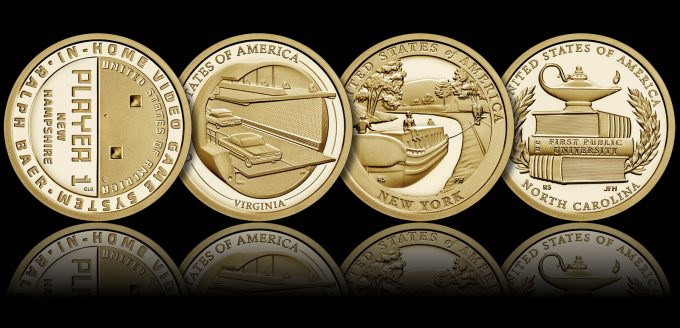 New Hampshire Innovations dollars debuted earlier this year with coins representing New York and North Carolina scheduled to appear later in 2021.
Designs for Virginia American Innovation Dollar
U.S. Mint Artistic Infusion Program Artist Matt Swaim created the reverse design which depicts a small cross section cut-away portion of the Chesapeake Bay Bridge-Tunnel. Inscriptions around the design read: "UNITED STATES OF AMERICA" and "VIRGINIA." Medallic Artist John P. McGraw sculpted the image.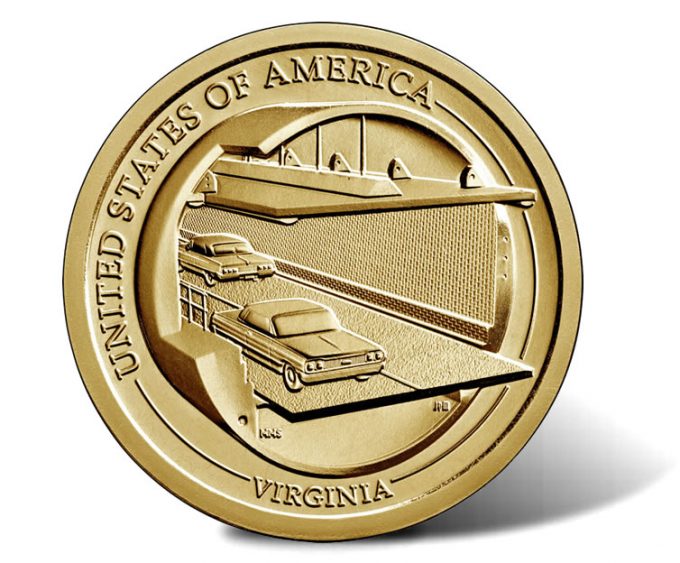 The obverse (heads side) side of all American Innovation dollars is the same, offering a view of the Statue of Liberty. Inscriptions include "IN GOD WE TRUST" and "$1."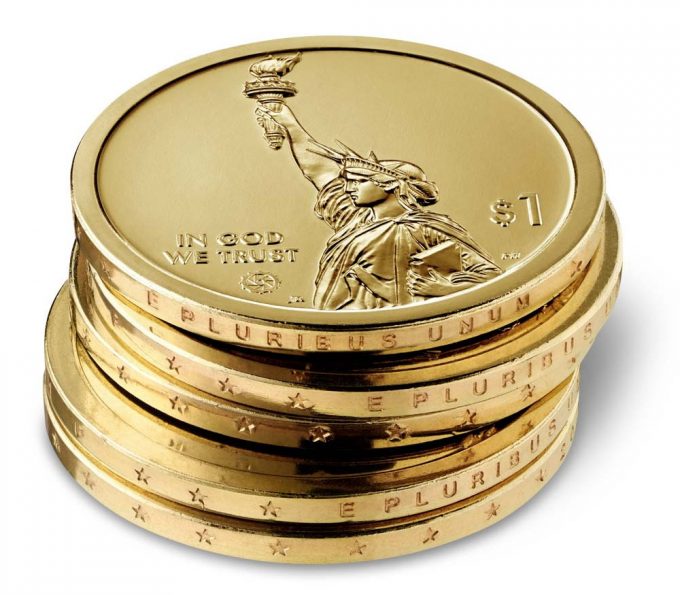 Obverses also include a privy mark of a stylized gear, representing industry and innovation. The gear's depiction is unique for the four 2021 dollars.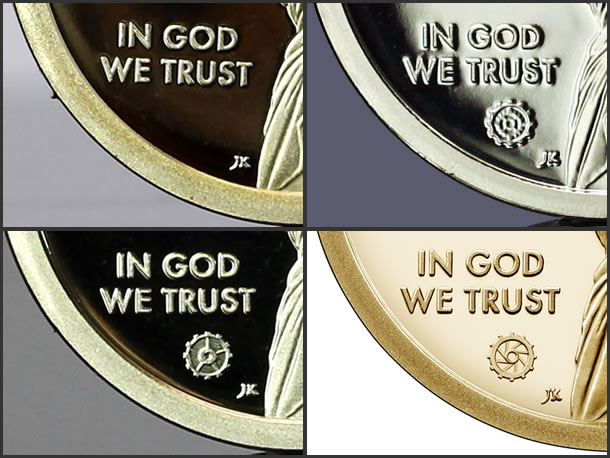 Each coin also includes edge inscriptions of the year of minting, mint mark, and "E PLURIBUS UNUM."
Price and Ordering
Rolls of Virginia Innovation dollars may be purchased for $34.50 each. Bags are $117.50 each. Buyers may choose between dollars struck at either production facility — Philadelphia or Denver.
They may be ordered from the U.S. Mint's online store for American Innovation products.
About the Series
The American Innovation series debuted in 2018 with a single release. The series is scheduled to include four new issues annually until all 56 locations are represented. To date, the series has included:
2018 Introductory George Washington Innovation $1 Coin
2019 Delaware Classifying the Stars $1 Coin
2019 Pennsylvania Polio Vaccine $1 Coin
2019 New Jersey Light Bulb $1 Coin
2019 Georgia Trustees' Garden $1 Coin
2020 Connecticut Gerber Variable Scale $1 Coin
2020 Massachusetts Telephone $1 Coin
2020 Maryland Hubble Space Telescope $1 Coin
2020 South Carolina Septima Clark $1 Coin
2021 New Hampshire Home Video Game System $1 Coin
Coins honoring innovation in New York and North Carolina with appear later this year. Special collector editions in proof and reverse proof qualities of the 2021 coins also planned.