For the first time since 2006 when the United States Mint introduced it as a yearly product, new imagery appears on an uncirculated American Gold Eagle which launches today at Noon ET.
In addition to a brand-new eagle design that is found on the gold coin's reverse (tails side), its obverse (heads side) design features several refreshed elements like modifications to the Capitol Building, stars, torch, and sun rays. Also, a reeded edge variation has been added as an anti-counterfeit measure.
These changes will boost demand for the $50 gold piece despite its hefty $2,620 price and higher-than-typical mintage limit of 9,100.
Last year's uncirculated American Gold Eagle was the last in its series to carry the classic design. It was limited to 7,000 pieces and has been unavailable for some time, with last reported sales of 6,284. Final (unaudited) sales of other prior-year issues include 5,851 for 2019; 8,518 for 2018; and 5,800 for 2017.
American Gold Eagle Designs
The United States Mint used its historical assets to update the coin's obverse to better reflect Augustus Saint-Gaudens' original intent for his much-loved rendition of Lady Liberty. The design offers a full-length figure of Liberty with flowing hair, holding a torch in her right hand and an olive branch in her left.
This image was first seen on the 1907 $20 Double Eagle.
"To refresh the design for the 2021 gold coin, Mint medallic artists used a bronze cast of the 1907 coin to capture more details of the original design. The bronze cast includes higher relief than the Mint could replicate on coins at the time of the original $20 gold piece," the U.S. Mint describes. "Those details are added to the refreshed sculpt."

"To match Saint-Gaudens' vision, the 2021 gold coins have modifications to the Capitol, stars, olive branch, and other elements. The shape and position of the sun's rays are restored. The number of stars is returned to the number on the 1907 coin. Liberty's eyes are enhanced for a stronger effect. The design also moves the position of Saint-Gaudens' artist initials."
Obverse inscriptions include LIBERTY, 2021 and a W mint mark indicating the coin was produced at the U.S. Mint facility in West Point, New York.
As for the reverse, it features the new eagle design as created by Jennie Norris and sculpted by Renata Gordon. Reverse inscriptions include UNITED STATES OF AMERICA, E PLURIBUS UNUM, IN GOD WE TRUST, the coin's face value of 50 DOLLARS, its weight of 1 OZ FINE GOLD, and the artists' initials.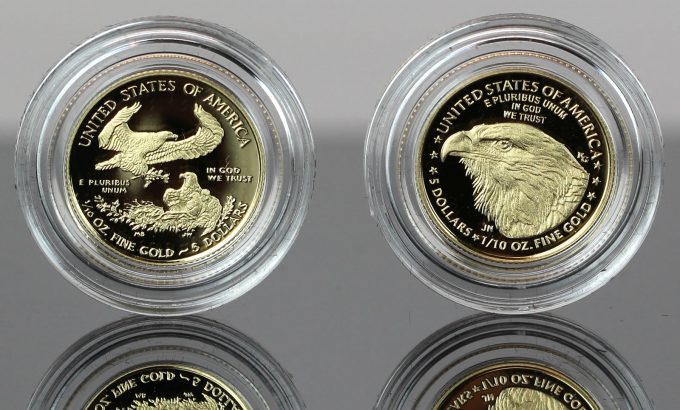 The American Gold Eagle program dates back to 1986 when the U.S. Mint introduced the coins in investment-grade bullion and collector proof editions. The Mint added uncirculated Gold Eagles to the line-up in 2006. All types of the 1-ounce coins share the same basic specifications, like their 22-karat gold composition. This coin is struck in an uncirculated collector grade finish that is created by using burnished coin blanks and special coin dies.
Coin Specifications
| | |
| --- | --- |
| Denomination: | $50 |
| Composition: | 91.67% Gold, 3.0% Silver, Balance Copper |
| Weight: | 1.0909 troy oz. (33.931 grams) |
| Diameter: | 1.287 inches (32.70 mm) |
| Thickness | 0.113 inch (2.87 mm) |
| Edge: | Reeded |
| Mint Mark: | West Point — W |
Ordering, Household Limit and Pricing
The 2021-W $50 Uncirculated American Gold Eagle may be ordered directly from the U.S. Mint's webpage dedicated to gold coins, located here.
Orders are limited to one per household for the first 24 hours of sales.
Its pricing is subject to change weekly according to a matrix the U.S. Mint uses which ties its numismatic gold coin prices to market conditions.