The United States Mint 2021-W Uncirculated American Silver Eagle should sell out soon after launching today at Noon ET.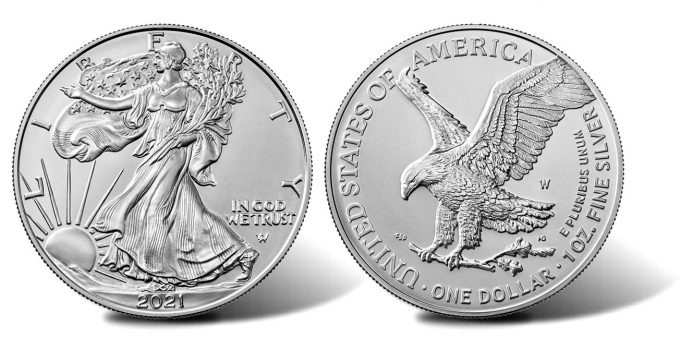 This coin is struck as a collector-grade version of the U.S. Mint's program of American Eagle silver bullion coins. Uncirculated editions actually debuted in 2006, succeeding the bullion program by twenty years.
This year's coin has more going for it than perhaps all past issues, including a refreshed obverse, a brand new reverse, an edge variation, and a stated production limit of 175,000.
For reference, very early sales of some older issues reached: 100,499 (2020); 82,784 (2019); 89,482 (2018); 111,224 (2017); 134,925 (2016); 127,872 (2015); 106,349 (2014); 104,570 (2013); and 123,801 (2012). The 2011-W Uncirculated Silver Eagle eclipsed those numbers at 184,967 in its first four days owing to pent-up demand following a two-year program hiatus.
American Silver Eagle Designs
As they have since their introduction, obverses (heads side) of American Silver Eagles bear Adolph A. Weinman's extremely popular "Walking Liberty" design which originated on the 1916-1947 half-dollars.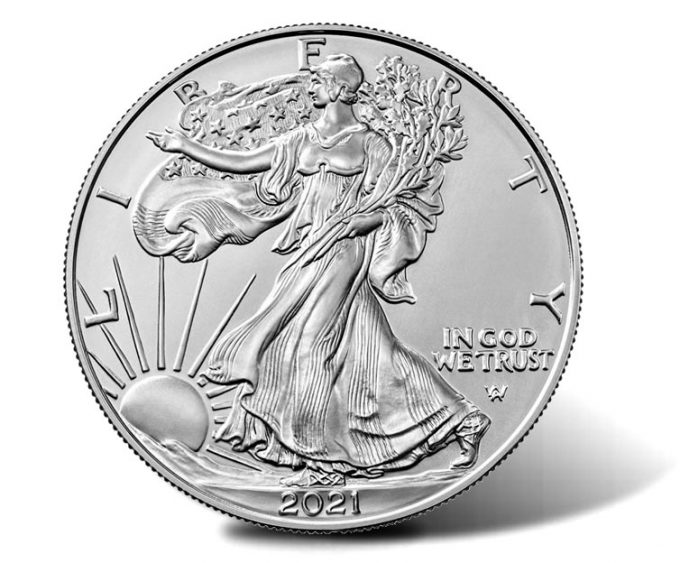 For 2021, the U.S. Mint refreshed the design by utilizing historical assets to more closely resemble the original artist's work. It also added Weinman's unique artist mark. Obverse inscriptions include "LIBERTY," "IN GOD WE TRUST," and "2021."
Emily Damstra created and Michael Gaudioso sculpted the new reverse design. It depicts an eagle as it approaches a landing, carrying an oak branch, as if to add it to a nest.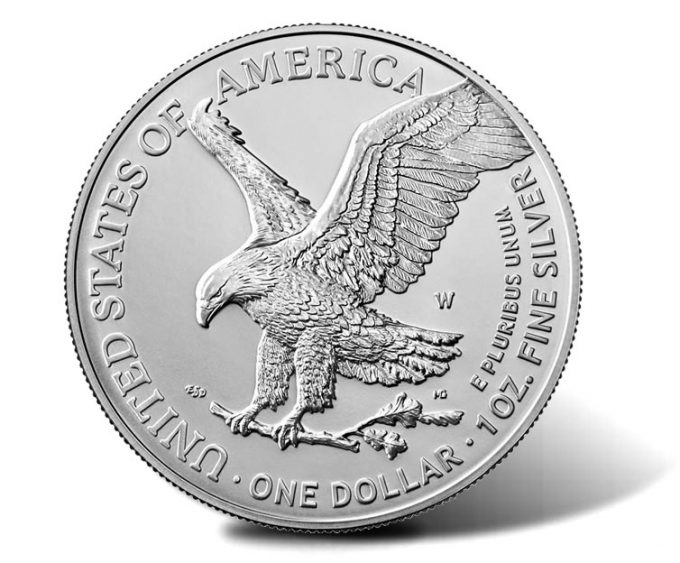 Inscriptions include "UNITED STATES OF AMERICA," "E PLURIBUS UNUM," "1 OZ. FINE SILVER," "ONE DOLLAR", the artists' initials, and "W" which indicates the coin's production at the West Point Mint.
Another new addition is a reed pattern variation on coin edges to assist in combating fakes.
Coin Specifications
Denomination:
$1
Finish:
Uncirculated
Composition:
99.9% Silver
Weight:
1.000 troy oz.
(31.103 grams)
Diameter:
1.598 inches
(40.60 mm)
Edge:
Reeded
Mint and Mint Mark:
West Point – W
Price & Ordering
Priced at $67, the 2021-W Uncirculated American Silver Eagle may be ordered directly from the Mint's online store, located here.
Orders are limited to three per household for the first 24 hours of sales.