Out with the old, in with the new — or in this case, why not get both? That may be the philosophy behind the U.S. Mint's release today of its "2021 American Eagle One-Tenth Ounce Gold Two-Coin Set Designer Edition."
Included in the 22-karat, two-coin proof set is an American Gold Eagle with original (Type 1) designs and an American Gold Eagle with new designs (Type 2).
Just 5,000 of the sets will be available with an initial household order limit of one.
A design change for the 35-year old American Eagle Gold Coin Program was announced last year, the first in its history. This includes a "refreshed" version of their classic obverse (heads side) and a completely new reverse (tails side).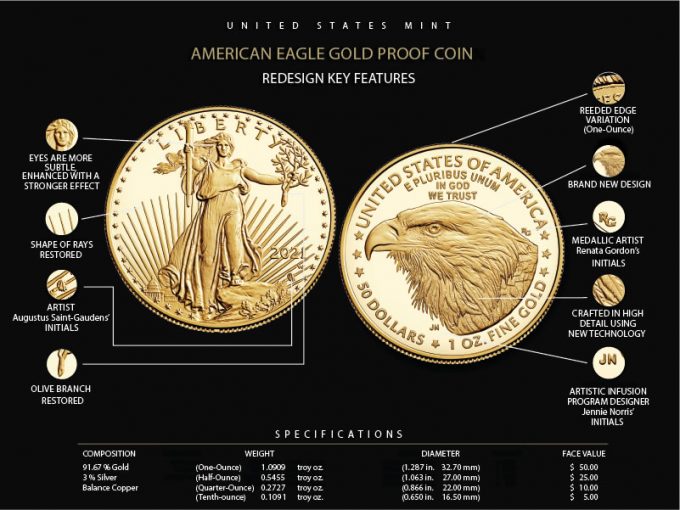 Classic 2021 American Gold Eagles (Type 1) were initially offered in one-ounce and fractional sizes on March 11th. The replacement Type 2 editions followed on July 29th. Both sets of coins sold out in minutes of their release.
Today's two-coin set offers buyers the chance to get one each of the classic and new one-tenth ounce versions through a single product purchase, albeit only a few will be successful owing to the small product limit.
Coin Designs
Obverses of both coins feature a likeness of Liberty as originally designed by Augustus Saint-Gaudens. The image dates back to the 1907 to 1933 Double Eagle $20 gold coin and has proven to be a favorite of many collectors. So much so that it re-appeared and remained on American Gold Eagles since their introduction 1986. For the new Type 2 coins, the design was refreshed utilizing modern technology that scanned historical U.S. Mint assets.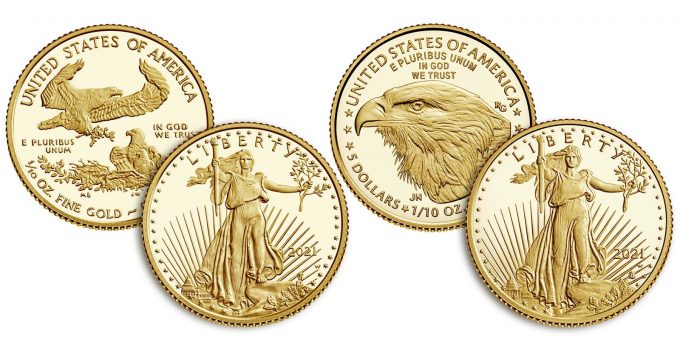 The full-length version of Liberty is shown with flowing hair, holding a torch in her right hand and an olive branch in her left. She is surrounded by the inscriptions of LIBERTY, 2021 and a W mintmark indicating the coin's production at the U.S. Mint's facility in West Point.
For the Type 1 reverse, we find a male eagle carrying an olive branch flying above a nest containing a female eagle and eaglets. This design was created by Sculptor Miley Busiek Frost and executed by United States Mint Sculptor-Engraver Sherl J. Winter. It has been featured on American Gold Eagles since 1986.
This image is replaced with the one found on the new Type 2 design. Depicting an eagle, the redesigned reverse was created by U.S. Mint Artistic Infusion Program Designer Jennie Norris and sculpted by Medallic Artist Renata Gordon.
Reverse inscriptions on both coins read: UNITED STATES OF AMERICA, E PLURIBUS UNUM, IN GOD WE TRUST, the legal tender face value of 5 DOLLARS and the content of 1/10 OZ. FINE GOLD.
Coin Specifications
| | |
| --- | --- |
| Denomination: | $5 |
| Finish: | Proof |
| Composition: | 91.67% Gold, 3% Silver, Balance Copper |
| Diameter: | 0.650 inch (16.50 mm) |
| Weight: | 0.1091 troy oz. (3.393 grams) |
| Edge: | Reeded |
| Mint and Mint Mark: | West Point – W |
| Privy Mark: | None |
Ordering
Orders for the two-coin proof will be accepted beginning at Noon ET from this U.S. Mint product page. Pricing for the set is $645.00.
Both coins of the set are encapsulated and packaged in a single black presentation case. An outer sleeve showcases both reverse designs with an individually numbered Certificate of Authenticity offering imagery of the obverse and reverse designs. A limited number of the CoA's are signed by United States Mint Director David J. Ryder.