The United States Mint today released their 2021 Silver Proof Set. Included in each set are seven coins, each struck to proof quality, with four of them composed in 99.9% silver.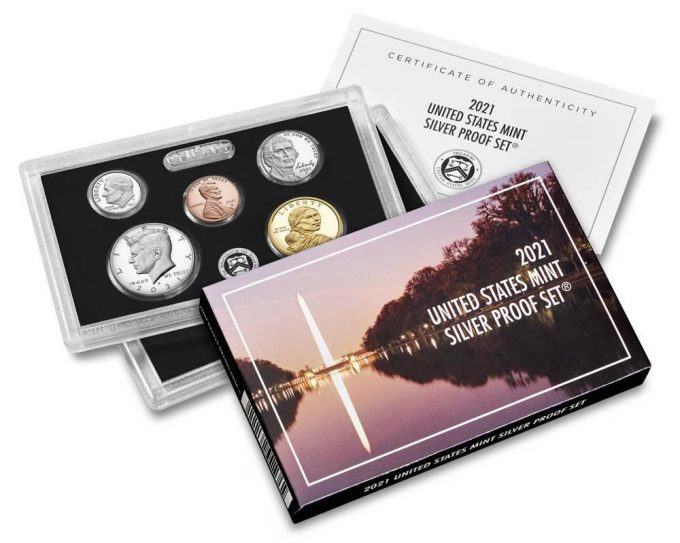 The San Francisco Mint-produced coins appear in two separate protective lenses and ship inside an illustrated cardboard sleeve. Pricing of the set is $105.00.
For those who raised an eyebrow at the aforementioned price, it does mark a significant increase from previous annual silver proof sets. Last year's edition debuted at $63.25, and it included a plus a bonus 2020-W reverse proof nickel. The 2019 set marked the first to include .999 fine silver coins and initially sold for $54.95. Prior to that, the 2018 set (which contained seven 90% silver coins) was offered at $49.95.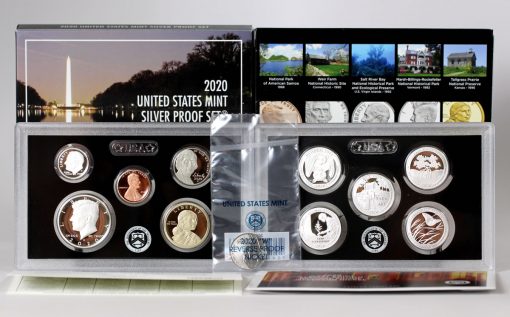 Also of note, previous sets held a total of ten coins — seven in silver — as they included each year's five new quarter dollars. This year's set holds just seven coins as the U.S. Mint's America the Beautiful Quarters® Program closed earlier this year with the Tuskegee Airmen quarter. The Washington Crossing the Delaware quarter replaced it (this quarter design will also last less than a year as it will be replaced in 2022 when the Mint's new American Women Quarters Program debuts).
Included Coins and Silver Weight of Proof Set
The seven coins of the new 2021 Silver Proof Set are as follows:
2021-S Washington Crossing the Delaware Quarter
2021-S Tuskegee Airmen National Historic Site (Alabama) Quarter
2021-S Native American (Military Service) $1 Coin
2021-S Kennedy Half-Dollar
2021-S Roosevelt Dime
2021-S Jefferson Nickel
2021-S Lincoln Cent
In this set, the two quarters and the Native American $1 Coin carry designs never before featured in the annual silver proof set. These designs are only for 2021.
Three of the coins have traditional clad compositions. The other four coins are in silver, weighing 27.908 grams for 0.897 troy ounces of silver. An ounce of silver as of this writing has a spot price of $26.24.
Silver Proof Set Popularity
These annual silver proof sets are popular with collectors as hundreds of thousands are sold each year. Unaudited sales of the three previous silver proof sets are shown below:
2020 – 313,185*
2019 – 412,508
2018 – 332,274
*The set from 2020 showed an increase of 43 units in the Mint's latest weekly sales report.
Ordering
The 2021 Silver Proof Sets may be ordered from the U.S. Mint's online page dedicated to proof sets, located here. Orders are still not accepted via telephone as the Mint's sales centers remain closed due to the pandemic.
No mintage, household or product limits are in place.