Anticipated by many, once delayed, and likely not available for long, the United States Mint's 2021 Reverse Proof American Silver Eagle Two-Coin Set goes on sale today beginning at Noon ET.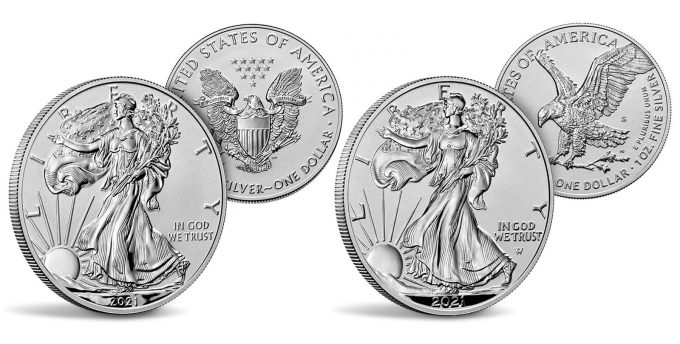 Officially named the "2021 American Eagle One Ounce Silver Reverse Proof Two-Coin Set Designer Edition," the collectible is is expected to be one of the most popular U.S. Mint products released this year because it contains a West Point Mint-struck 2021-W American Silver Eagle with the original or classic design (Type 1) and a San Francisco Mint-struck 2021-S American Silver Eagle with the new design (Type 2).
Sweetening the pot, the pair are in a brilliant reverse proof finish which showcases polished, mirror-like design elements that attractively contrast against frosted backgrounds. Further, the set's mintage/product limit is capped at 125,000. This instantly makes both coins key issues in the entire American Silver Eagle series.
Initially, the two-coin set was scheduled for a release on Aug. 24. A few days before the 24th, however, the Mint pushed the release back just shy of three weeks to land on a less-typical release day of Monday (today).
Those interested in the set should be proactive. Recommendations include making sure your account with the U.S. Mint is up-to-date with a valid credit card, and logging in several minutes before its launch to be prepared. Anyone who has attempted to purchase a popular Mint release can attest that both patience and frustration will be part of the equation. The Mint has taken steps to alleviate past issues, but demand for this product is expected to still strain the Mint's website. In some good news, orders are limited to one set per household for the first 24 hours of sales. This restriction will help more people get one.
American Silver Eagle Designs
The classic 2021-W Reverse Proof American Silver Eagle contains the original designs (Type 1) as seen on American Eagle program coins since their debut in 1986. This includes Adolph A. Weinman's "Walking Liberty" design as first used on the 1916-1947 half-dollar obverses and John Mercanti's heraldic eagle with shield design used on original Silver Eagle reverses.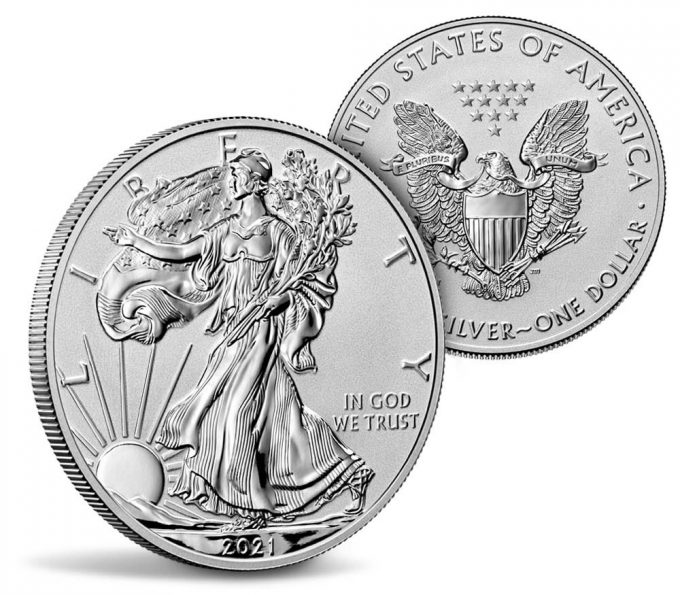 Weinman's Liberty design is also showcased on the obverse of the 2021-S Reverse Proof American Silver Eagle. However, the design was refreshed using modern technology and historical Mint assets to more closely reflect Weinman's original intent. It also carries Weinman's unique artist mark.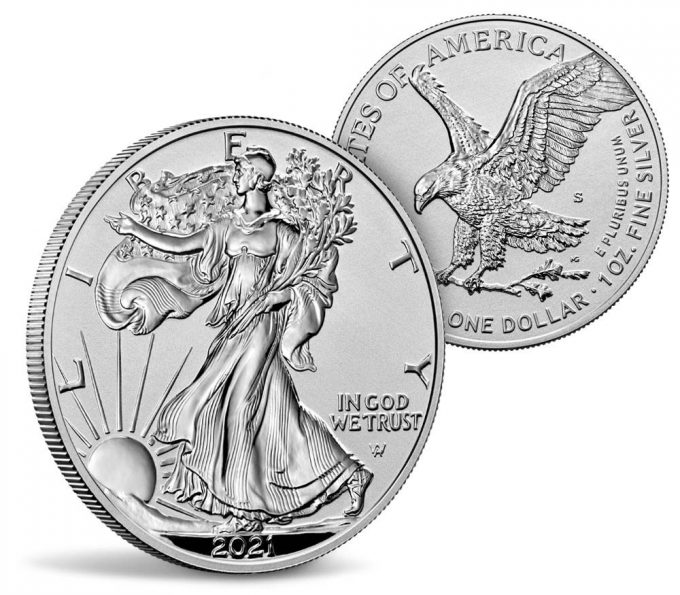 The redesigned reverse offers an eagle as it approaches a landing, carrying an oak branch, as if to add it to a nest. The new reverse design, created by Emily Damstra and sculpted by Michael Gaudioso, will appear on all American Silver Eagles going forward.
Redesigned American Silver Eagles also feature enhanced security features, including a reeded edge variation.
Two-Coin Set's American Silver Eagle Specifications
Denomination:
$1
Finish:
Reverse Proof
Composition:
99.9% Silver
Weight:
1.000 troy oz.
(31.103 grams)
Diameter:
1.598 inches
(40.60 mm)
Edge:
Reeded
Mint and Mint Mark:
West Point – W
San Francisco – S
Ordering & Price
On release at Noon ET, the 2021 Reverse Proof American Silver Eagle Two-Coin Set will be available from the Mint's online store for American Eagle coins. Pricing for the two-coin set is listed as $175.
The pair of coins ship encapsulated and packaged together in a single black presentation case. An outer sleeve displays both reverse designs. A Certificate of Authenticity is also included.