Eagerly anticipated by many collectors, the United States Mint at noon EST will release the 2021-W Proof American Silver Eagle carrying the original 'Heraldic Eagle' reverse design. This annual staple marks the 35th year since its inaugural debut in 1986.
Aside from its long history and precious metal content, the new coin should be a hit with collectors since it also marks the last proof pairings of the original designs. Later this year, the U.S. Mint will introduce new Silver Eagles showcasing a different reverse.
Demand for the American Silver Eagle has always been high — especially those in proof with their frosted designs and mirror-like backgrounds. They are one of the most sought collectibles coins. That demand has waned a bit in recent years, however. Last year's issue sold 205,389 coins in seven days, for one of the slowest starts in the series.
Product Limit
We will have to wait and see if demand will continue to falter or if it will reverse course owing to the program's imminent design change.
Of note, the U.S. Mint has indicated a limit of 327,440 for this product. The coin is also available, however, in the 2021 Congratulations Set which also launches today and does not have a stated limit.
2021-W Proof American Silver Eagle Designs and Specifications
Appearing on the obverse of each 2021-W Proof Silver Eagle is the classic Adolph A. Weinman Walking Liberty design which first appeared on 1916-1947 half dollars. This design will remain on future editions. Obverse inscriptions include LIBERTY, IN GOD WE TRUST and 2021.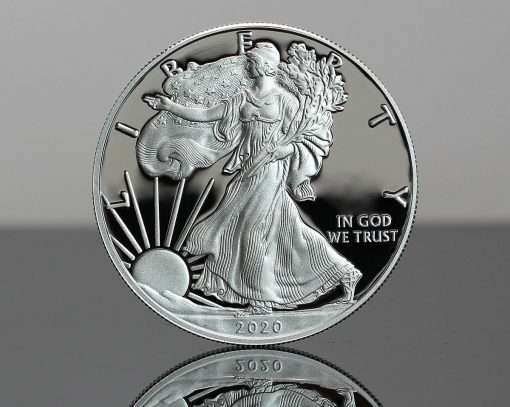 The coin's reverse depicts a heraldic eagle with shield as designed by John M. Mercanti. Future Silver Eagles will carry a different eagle depiction. The eagle's beak holds a banner reading E PLURIBUS UNUM.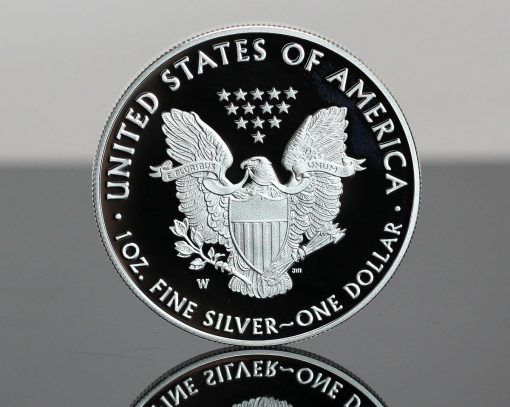 Additional reverse inscriptions include UNITED STATES OF AMERICA, 1 OZ. FINE SILVER and the face value of ONE DOLLAR. A 'W' mintmark indicates its production at the U.S. Mint's facility in West Point.
Coin Specifications
Denomination:
$1
Composition:
99.9% Silver
Weight:
1.000 troy oz
(31.103 grams)
Diameter:
1.598 inches
(40.60 mm)
Edge:
Reeded
Mint and Mint Mark:
West Point – W
Price and Ordering
The 2021-W Proof American Silver Eagle is $73, up from last year's edition which made its first appearance at $64.50.
Orders are accepted by the U.S. Mint via its online page dedicated to American Eagle coins. Due to Covid, no telephone orders are accepted.