Today, March 11, the United States Mint at Noon EST will release products featuring 2021-W Proof American Gold Eagles bearing original, classic designs. Options include four different sizes/denominations and a four-coin set.
Expect enhanced demand for these coins as they are the last to carry pairing of their original designs. These designs have remained unchanged since the inaugural release of the series in 1986. That combination will change later this year as the U.S. Mint will introduce American Gold Eagles with a new reverse design to mark the series' 35th anniversary.
Of note, the Mint will also issue American Silver Eagles carrying a new reverse. The classic design pairing of the 2021-W Proof Silver Eagle debuted last month and saw an almost immediate sell out — for both the individual coin and the Congratulations Set which contained the strike.
Time will tell if collectors are as willing to shell out more cash for the Gold Eagles to insure they get their hands on the final classic design combination.
2021 Gold Eagle Designs and Specifications
Obverses (heads side) of these gold coins bear Augustus Saint-Gaudens' full-length figure of Liberty. Liberty is seen with with flowing hair while holding a torch in her right hand and an olive branch in her left. This design has been a favorite of collectors since it was first seen on the 1907-1933 $20 gold coins.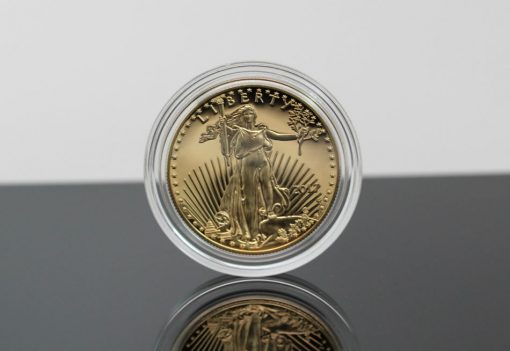 Above the walking figure is the inscription of LIBERTY. To the right is the date of 2021 and a 'W' mintmark indicating the coin was struck at the West Point Mint.
Designed by Miley Busiek's, coin reverses (tails side) feature a male eagle carrying an olive branch, flying above a nest containing a female eagle and eaglets. It is this design that will be replaced in the later issues.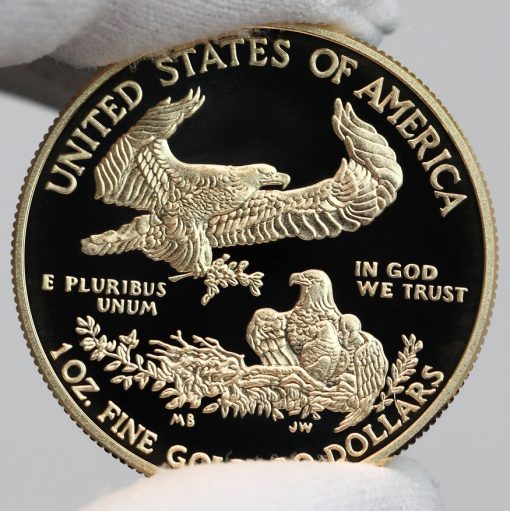 Reverse inscriptions include UNITED STATES OF AMERICA, E PLURIBUS UNUM and IN GOD WE TRUST. Also inscribed on the reverse are the coin's precious metal weight and legal tender face value.
Coin Specifications
All four sizes of the coin, including those of the four-coin set, are composed of 22-karat gold. Specifications for each appear below:
$50
$25
$10
$5
Composition
22 Karat Gold (91.67% Gold
3.0% Silver
Balance Copper)
Weight
1.0909 troy oz.
(33.931 grams)
0.5455 troy oz.
(16.966 grams)
0.2727 troy oz.
(8.483 grams)
.1091 troy oz.
(3.393 grams)
Diameter
1.287 inches
(32.70 mm)
1.063 inches
(27.00 mm)
0.866 inch
(22.00 mm)
0.650 inch
(16.50 mm)
Thickness
0.113 inch
(2.87 mm)
0.085 inch
(2.15 mm)
0.070 inch
(1.78 mm)
0.049 inch
(1.26 mm)
Edge
Reeded
Limits, Price and Ordering
The table below offers mintages and limits. It also shows the price of each individual coin as well as the four-coin set. These prices are subject to change weekly based on the Mint's precious metals coin pricing matrix. (The current product prices are based on the average LBMA price of an ounce of gold that sits within the range of $1,700.00 to $1,749.99.)
| Product Option | Product Limit | Mintage Limit | Price |
| --- | --- | --- | --- |
| 2021 $50 American Eagle Gold Proof Coin (1 oz.) | 4,500 | 12,700 | $2,375.00 |
| 2021 $25 American Eagle Gold Proof Coin (1/2 oz.) | 1,600 | 9,800 | $1,205.00 |
| 2021 $10 American Eagle Gold Proof Coin (1/4 oz.) | 2,700 | 10,900 | $615.00 |
| 2021 $5 American Eagle Gold Proof Coin (1/10 oz.) | 8,000 | 16,200 | $260.00 |
| 2021 American Eagle Gold Proof Coins (Four-Coin Set) | 8,200 | N/A | $4,410.00 |
The product limit is the maximum number of coins issued in that specific product whereas the mintage limit is the maximum number of coins of that denomination. For example, the product limit of the four-coin set has been established at 8,200. An additional 4,500 of the one-ounce coins will be available as an individual release giving the $50 coin a total mintage limit of just 12,700.
Classic 2021-W Proof American Gold Eagles and the four-coin set are available from the U.S. Mint's online page of gold coins, located here.