United States Mint redesigned 2021-W Proof American Gold Eagles launch today at noon (ET). The "Type 2" coins feature an enhanced obverse and a brand new reverse.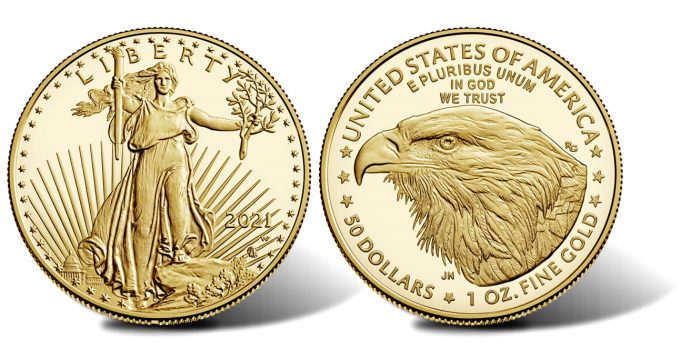 Products include a 1 oz. coin, fractional sized 1/2 oz., 1/4 oz. and 1/10 oz. coins, and an all-inclusive four-coin set. All together, this equates to five options which continue the U.S. Mint's 35-year American Eagle Gold Coin Program.
2021-W Proof American Gold Eagles showcasing the classic, Type 1 designs were offered earlier this year. All of them were snapped up by buyers within minutes.
Designs and Specifications
The obverse (heads side) of the new proof Gold Eagles still carry a depiction of the 1907 full-length figure of Liberty as designed by celebrated sculptor Augustus Saint-Gaudens. However, the Mint utilized original historical assets to create a closer reflection of Saint-Gaudens' original vision and detail including modifications to the Capitol Building, stars, torch, sun rays, and other design elements based on the original bronze cast.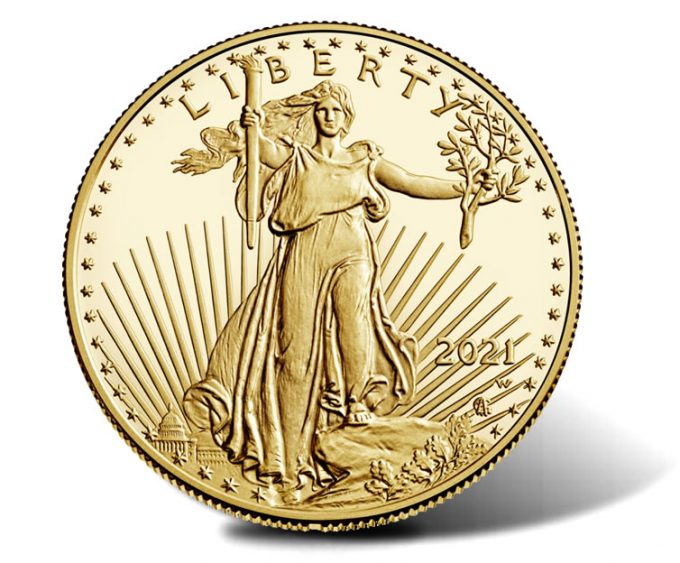 This design offers Liberty with flowing hair and depicts her holding a torch in her right hand and an olive branch in her left. Inscriptions include "LIBERTY," "2021," the artist's initials, and a "W" mintmark indicating the coin's production at the U.S. Mint's facility in West Point.
Created by U.S. Mint Artistic Infusion Program (AIP) designer Jennie Norris and sculpted by Mint Medallic Artist Renata Gordon, a portrait of an eagle is found on the new reverse design.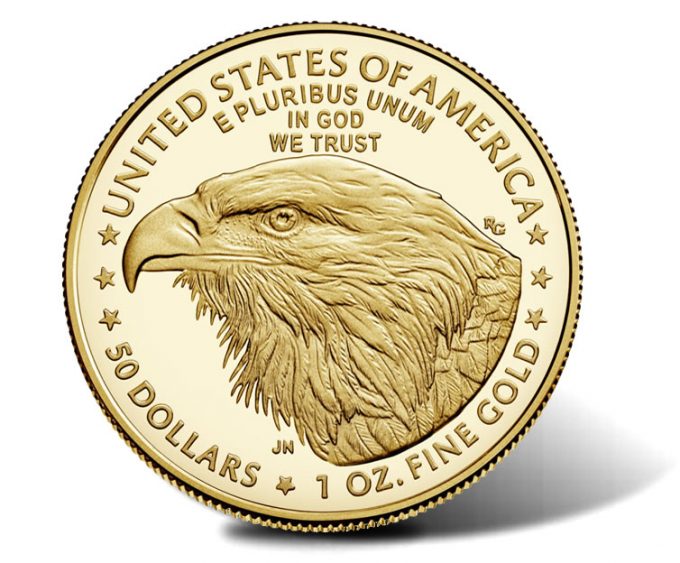 Surrounding inscriptions include "UNITED STATES OF AMERICA," "E PLURIBUS UNUM," "IN GOD WE TRUST," the artists' initials, the coin's legal tender face value, and the coin's precious metal weight.
The following U.S. Mint image shows the key redesign features of the Type 2 American Gold Eagles: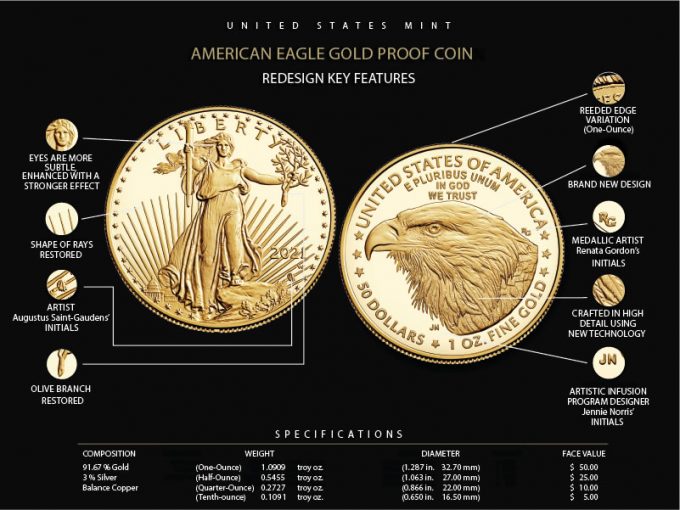 Aside from an anti-counterfeit reeded edge variation, specifications for the coins remain identical to past issues, as shown below:
$50
$25
$10
$5
Composition
22 Karat Gold (91.67% Gold
3.0% Silver
Balance Copper)
Weight
1.0909 troy oz.
(33.931 grams)
0.5455 troy oz.
(16.966 grams)
0.2727 troy oz.
(8.483 grams)
.1091 troy oz.
(3.393 grams)
Diameter
1.287 inches
(32.70 mm)
1.063 inches
(27.00 mm)
0.866 inch
(22.00 mm)
0.650 inch
(16.50 mm)
Thickness
0.113 inch
(2.87 mm)
0.085 inch
(2.15 mm)
0.070 inch
(1.78 mm)
0.049 inch
(1.26 mm)
Edge
Reeded Edge Variation
Limits, Prices and Ordering
2021-W Proof American Gold Eagles and the four-coin set are available from the U.S. Mint's online page of gold coins, located here.
Limits and prices for the 22-karat gold coins are provided in the following table:
| Product Option | Product Limit | Mintage Limit | Price |
| --- | --- | --- | --- |
| 2021 $50 American Eagle Gold Proof Coin (1 oz.) | 5,625 | 15,875 | $2,700.00 |
| 2021 $25 American Eagle Gold Proof Coin (1/2 oz.) | 2,000 | 12,250 | $1,375.00 |
| 2021 $10 American Eagle Gold Proof Coin (1/4 oz.) | 3,375 | 13,625 | $715.00 |
| 2021 $5 American Eagle Gold Proof Coin (1/10 oz.) | 10,000 | 20,250 | $315.00 |
| 2021 American Eagle Gold Proof Coins (Four-Coin Set) | 10,250 | N/A | $5,055.00 |
The product limit is the maximum number of coins issued in that specific product whereas the mintage limit is the maximum number of coins of that denomination. For example, the product limit of the four-coin set has been established at 10,250. An additional 5,625 of the one-ounce coins will be available as an individual release giving the $50 coin a total mintage limit of just 15,875.
All products have an initial household order limit of one.
If any of the products last, their prices may be adjusted weekly based on the Mint's precious metals coin pricing matrix. Current U.S. Mint gold coin prices are based on an average of LBMA gold that is within $1,800.00 to $1,849.99 an ounce.