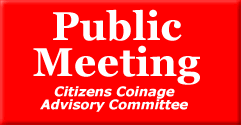 The Citizens Coinage Advisory Committee (CCAC) will hold a two-day meeting by teleconference on Sept. 22 and 23 to review and discuss candidate designs for several medals and coins, including commemoratives honoring the National Law Enforcement Museum.
The CCAC is tasked with advising the Secretary of the Treasury on themes and designs pertaining to all United States coins and medals.
Specifically, agenda topics for the meeting include discussion of candidate designs for:
the U.S. Army Silver Medal,
the National Law Enforcement Museum Commemorative Coins,
three of the five Hidden Figures Congressional Gold Medals, and
the David J. Ryder United States Mint Director Medal.
Meeting Time
The two-day meeting starts Tuesday, Sept. 22, from 11:00 a.m. to 12:30 p.m., and continues Wednesday, Sept. 23 from at 9:00 a.m. to 4:30 p.m.
Members of the public may dial in to listen to the meeting at (888) 330-1716 and using access code: 1137147.
For members of the public, this teleconference meeting is for "listen purposes only" — no comments or questions will be taken. Instead, those interested in submitting matters for the CCAC's consideration are invited to submit them by email to info@ccac.gov.