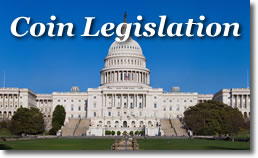 Legislation introduced in the House calls for 2021-dated coins to celebrate the National Law Enforcement Museum in the District of Columbia.
Honoring the extraordinary service and sacrifice of America's law enforcement officers, the museum will formally open in September this year.
Introduced Dec. 21 by Congressman Dave Reichert (R-WA), the bill, numbered H.R. 4732 and titled the National Law Enforcement Museum Commemorative Coin Act, seeks up to 50,000 $5 gold coins, no more than 400,000 silver dollars, and a maximum of 750,000 half-dollars. They would be produced by the United States Mint in collector qualities of proof and uncirculated with designs emblematic of the museum and the service and sacrifice of law enforcement officers throughout the history of the United States.
These designs would be reviewed by the Citizens Coinage Advisory Committee and selected by the Secretary of the Treasury after consulting with the Commission of Fine Arts and the National Law Enforcement Officers Memorial Fund.
Sales of the coins would include surcharges directed to the nonprofit Memorial Fund for educational and outreach programs and exhibits.
H.R. 4732 has one cosponsor and currently resides in the House Committee on Financial Service. To become law, it must pass in the House and Senate and get signed by the President.