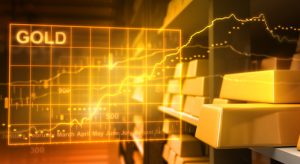 Precious metals prices climbed higher Friday, padding their monthly gains, although platinum and palladium did fall from their week ago levels. Silver finished at its best price in more than three-months while gold closed at a one-and-a-half-month high.
Gold for August delivery tacked on $23.40, or 1.4%, to settle at $1,751.70 an ounce on the Comex division of the New York Mercantile Exchange. The finish was the highest since April 14 when gold ended at a more than seven-year high.
"Gold enjoyed one of its steadiest months of return in May," Giannotto told MarketWatch. Even with the market optimism surrounding reopening, gold saw a gain, "underlying the precious metal's all-weather investment characteristics."

"Tensions surrounding Hong Kong's autonomous status are in clear focus for gold's next movements, with potential for not only a weakened dollar but also a heightened safe-haven demand," he said. "This scenario would represent a two-fold gain for gold."
Gold posted increases of 0.9% for the week and 3.4% for the month. The yellow metal is 15% ahead on the year to date.
In looking ahead to next week, Kitco News offers the following forecasts via their Wall Street & Main Street surveys:
"Thirteen of out 15 Wall Street voters, or 87%, said they are bullish for the week ahead. There was one vote each, or 7%, for both lower and neutral/sideways prices.

Meanwhile, 1,090 votes were cast in an online Main Street poll. A total of 623 voters, or 57%, looked for gold to rise in the next week. Another 251, or 23%, said lower, while 216, or 20%, were neutral."
Elsewhere, silver for July delivery surged 53.2 cents, or 3%, to close at $18.499 an ounce. The settlement was the highest since Feb. 24. Silver scored gains of 4.6% for the week and 23.6% for the month. Silver prices are 3.2% higher on the year.
In PGM futures on Friday and for the week:
July platinum added $6.50, or 0.8%, to end at $874.60 an ounce, but registered a 1.3% weekly loss.

Palladium for September delivery rose $26.40, or 1.4%, to $1,972.90 an ounce, but slipped 0.2% on the week.
In May, platinum rallied 7.6% and palladium rose 0.9%. As for the year so far, platinum is 10.6% lower and palladium is 3.3% higher.
London Precious Metals Prices (LBMA)
London precious metals prices rose on Friday and were mixed for the week and month. In comparing their levels from Thursday PM to Friday PM:
Gold added $11.35, or 0.7%, to $1,728.70 an ounce.
Silver rose 25 cents, or 1.4%, to $17.59 an ounce.
Platinum added $4, or 0.5%, to $825 an ounce.
Palladium was unchanged at $1,920 an ounce.
In LBMA weekly results, prices advanced 3.5% for silver and 0.3% for palladium while they declined 0.3% for gold and 1.2% for platinum.
In LBMA results for May, prices advanced 1.5% for gold, 14.7% for silver, and 7.6% for platinum while they declined 3.3% for palladium.
US Mint Bullion Sales in 2020
Sales of United States Mint bullion gold and silver coins slowed for a second month in a row. In headline comparisons:
American Eagle gold coins moved up by 11,500 ounces in May, down 89.1% from the 105,000 ounces sold in April but 187.5% higher than the 4,000 ounces sold in May 2019. Year to date, American Gold Eagle sales at 335,000 ounces are 222.1% higher than the 104,000 ounces sold during the first five months of last year.

American Eagle silver coins climbed by 490,000 ounces in May, representing declines of 34.7% from April sales of 750,000 ounces and 43.4% from the 866,000 ounces sold in May 2019. American Silver Eagle sales for the year so far at 11,218,500 coins are 24.8% higher than the 8,987,000 coins sold through the same time last year.

American Buffalo gold coins rose by 2,500 ounces in May, compared to 28,500 ounces in April, lifting their year-to-date total of 118,500 ounces. In 2019, May sales of the coins reached 3,000 ounces and their starting five-month level totaled 44,500 ounces.

American Platinum Eagles were flat in May like they were in the same month last year. Year-to-date sales at 56,500 ounces compare to same time sales in 2019 of 40,000 ounces.
Below is a sales breakdown of U.S. Mint bullion products with columns listing the number of coins sold during varying periods.
US Mint Bullion Sales (# of coins)
Friday
Last Week
This Week
April
May
2020 Sales
$50 American Eagle 1 Oz Gold Coin
0
1,500
2,000
105,000
5,500
285,000
$25 American Eagle 1/2 Oz Gold Coin
0
0
1,000
0
6,000
39,000
$10 American Eagle 1/4 Oz Gold Coin
0
0
2,000
0
12,000
52,000
$5 American Eagle 1/10 Oz Gold Coin
0
0
0
0
0
175,000
$50 American Buffalo 1 Oz Gold Coin
0
1,500
1,000
28,500
2,500
118,500
$1 American Eagle 1 Oz Silver Coin
0
490,000
0
750,000
490,000
11,218,500
$1 American Eagle 1 Oz Platinum Coin
0
0
0
1,500
0
56,500
In terms of 5-ounce silver bullion sales for 2020, the U.S. Mint is working on getting them automated and reported. Initial U.S. Mint-provided figures have the first two 2020-dated pieces at 45,000 produced and sold per issue. These amounts are being verified.