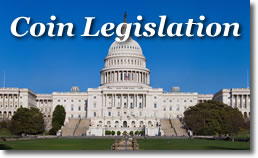 Legislation authorizing a 56-coin series of numismatic $1 coins for American innovation was introduced June 8 in the U.S. Senate by Sen. Chris Murphy (D-CT).
The bill, named the American Innovation $1 Coin Act, S. 1326, marks a first for the Senate but sister bills have been presented more than once in the House. Most recently, H.R. 770 was introduced Jan. 31 after a previous rendition died from inaction in the last session of Congress.
Should either of the newest bills pass in both chambers of Congress and get signed by the President, the United States Mint beginning in 2018 would strike $1 coins with reverse designs that celebrate a significant innovation, an innovator or pioneer, or a group of innovators or pioneers within each state, the District of Columbia and U.S. territory. The $1 coin program would last 14 years with four unique design releases every year.
A provision in the legislation prohibits designs bearing any portrait or bust of any person living or dead. Reverses would also feature the represented state, district, or territory, plus standard inscriptions of $1 and UNITED STATES OF AMERICA.
The Secretary of the Treasury would select the innovations, innovators or pioneers, or group of innovators or pioneers to be honored after consulting with Governors or other chief executives of the state, the District of Columbia, or territory. The Secretary would also choose the eventual dollar designs after receiving recommendations from the heads of the sites, the Commission of Fine Arts and the Citizens Coinage Advisory Committee.
An obverses or heads sides design symbolic of Liberty would be shared across all 56 coins, along with the inscription IN GOD WE TRUST. Regular dollar edge inscriptions are called for, including the year of minting, or issuance, E PLURIBUS UNUM, and a mint mark, as well as the standard $1 coin composition of manganese-brass.
American Innovation $1 Coins would be issued for collectors alongside the current series of dollar coins honoring Native Americans and their contributions to the development and history of the United States.