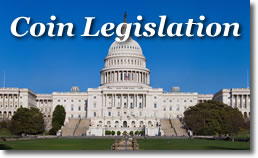 On Jan. 31, legislation calling for another series of $1 coins was reintroduced in the U.S. House of Representatives by Congressman Jim Himes, D-CT.
Carrying the same name as the first bill, which died from inaction in the last session of Congress, the American Innovation $1 Coin Act seeks a 56-coin program for collectors that runs 14 years with one coin for each of the 50 states, the District of Columbia and the five U.S. territories.
Beginning in 2018 or as soon as economically feasible, they would be issued at a rate of four per year in alphabetic order of the state, the district, or territory represented, starting with Alabama. The U.S. Mint would strike them in uncirculated and proof qualities and quantities determined by the Secretary of the Treasury.
The legislation states that all 56 coins must share an obverse design that is symbolic of Liberty and bear the inscription IN GOD WE TRUST. Each of the reverses would be emblematic of:
A significant innovation,
An innovator or pioneer, or
A group of innovators or pioneers.
A provision prohibits the use of any portrait or bust of any person living or dead. In addition, the design must have the name of the state, district, or territory. Required reverse inscriptions are $1 and UNITED STATES OF AMERICA.
Standard $1 edge inscriptions are called for — the year of minting, or issuance, E PLURIBUS UNUM, and a mint mark.
The Secretary of the Treasury would select the innovation, innovator or pioneer, or group of innovators or pioneers to be honored after consultation with the Governor or other chief executive of the state, the District of Columbia, or territory. The Secretary would also choose the eventual designs after consulting with the heads of the sites, the Commission of Fine Arts and the Citizens Coinage Advisory Committee.
For the bill (H.R. 770) to become law, it must pass in the House, Senate and get signed by the President.