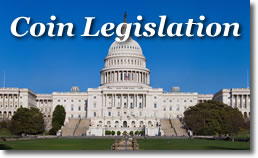 Collectors can expect another dollar coin series to run concurrently with the program of Native American $1 Coins. Legislation for a new multi-year dollar series calls for the production of coins in recognition of American innovation and significant innovation and pioneering efforts of individuals or groups in the United States and its territories.
Introduced on Jan. 31, 2017, the American Innovation $1 Coin Act, H.R. 770, passed in the House with amendment on Jan. 16 and it was just approved with an amendment in the Senate on Wednesday, June 20. For the bill to become law the House will need to approve the changes and President Trump must sign it. Both are expected.
Originally, H.R. 770 sought a 14-year series beginning in 2018 with four different designs per year for a total of 56 coins. The bill was amended in the House to change the series start date to 2019, while allowing an option to introduce the series this year with an extra coin depicting a representation of the signature of President George Washington on the first patent issued. The Senate's amendment changed the order of issuance from alphabetical to when a state was admitted into the Union followed by the District of Columbia and the five territories.
American Innovation $1 Coin reverses (tails side) must be emblematic of:
A significant innovation,
An innovator or pioneer, or
A group of innovators or pioneers.
A provision prohibits the use of any portrait or bust of any person living or dead.
The Secretary of the Treasury must select the innovation, innovator or pioneer, or group of innovators or pioneers to be honored after consultation with the Governor or other chief executive of the state, the District of Columbia, or territory. The Secretary would also choose the eventual designs after consulting with the heads of the sites, the Commission of Fine Arts and the Citizens Coinage Advisory Committee.
American Innovation $1 Coin obverses (heads side) must be symbolic of Liberty and be shared across all 56, or 57 coins should there be an extra, and have the inscription IN GOD WE TRUST.
In addition to the standard composition of manganese-brass, they would feature regular $1 edge inscriptions to include the year of minting or issuance, E PLURIBUS UNUM, and a mint mark.
Innovation dollars would follows the program of Presidential $1 Coins which ended in 2016. They would be struck alongside the existing dollars honoring Native American tribes and individuals.
Dollar coins have not been released into circulation since 2011. The United States Mint produces them in circulating, proof and uncirculated finishes solely for coin collector products. H.R. 770 would make no changes in that regard.