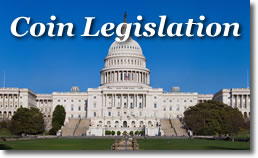 Newly introduced legislation is calling for a series of collector dollars to commemorate American innovation.
Entitled the American Innovation $1 Coin Act, H.R. 6025 proposes a 14-year program of $1s with one issued for each of the 50 states, the District of Columbia, and the five United States territories of the Commonwealth of Puerto Rico, Guam, American Samoa, the U.S. Virgin Islands, and Commonwealth of Northern Mariana Islands.
This latest program would follow the series of Presidential $1 Coins, which ends this year, and run concurrently with the program of Native American $1 Coins. Standard dollar coin compositions and inscriptions would be maintained.
The new coins would be issued at a rate of four per year, beginning in 2017 if economically feasible, and feature an obverse (heads side) that is symbolic of Liberty.
Reverses (tails side) would be emblematic of:
A significant innovation,
An innovator or pioneer, or
A group of innovators or pioneers.
A provision prohibits the use of any portrait or bust of any person living or dead.
The Secretary of the Treasury would select the innovation, innovator or pioneer, or group of innovators or pioneers to be honored after consultation with the Governor or other chief executive of the state, the District of Columbia, or territory. The Secretary would also choose the eventual designs after consulting with the heads of the sites, the Commission of Fine Arts and the Citizens Coinage Advisory Committee.
American Innovation $1 coins would be released in alphabetic order of the state, the District or territory represented, starting with Alabama. Collector qualities include proof and uncirculated, with their quantities set by the Secretary.
Rep. Jim Himes [D-CT] introduced H.R. 6025 on Sept. 14. For the legislation to become law, it must pass in the House, Senate and get signed by the President. The bill awaits action in the House Committee on Financial Services.