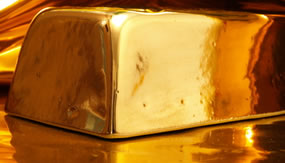 Gold and silver futures advanced on Friday but both declined on the week — gold's first loss in three weeks but silver's second in a row.
Gold for June delivery added $1.50, or 0.1%, to settle at $1,272.70 an ounce on the Comex division of the New York Mercantile Exchange.
"The dollar rally has dented gold, but it's not like the bullion market walked under a ladder, broke a mirror, or crossed a black cat this Friday 13th," MarketWatch quoted Adrian Ash, head of research at BullionVault. "Gold priced in most other currencies is flat or higher on the week, supported again by [exchange-traded fund] inflows and bullish speculation in Comex futures."
Gold prices slipped 1.7% on the week after inching up 0.3% last week and surging 4.9% the week before then. They are 20% higher on the year to date.
In looking ahead to next week, Kitco News offers the following forecasts via their Wall Street vs. Main Street survey:
"This week, Kitco's online and Twitter surveys received a combined 663 votes. Of these, 458 participants, or 69%, looked for higher prices next week, while 124 people, or 19%, were bearish. Eighty-one respondents, or 12%, were neutral.

Meanwhile, 26 analysts and traders took part in a survey for market professionals. Thirteen, or half, said they looked for gold to weaken next week. Nine, or 35%, were bullish. The remaining four, or 15%, looked for prices to be sideways."
Elsewhere, silver for July delivery added 2.9 cents, or 0.2%, to settle at $17.132 an ounce. Silver futures declined 2.3% this week after shedding 1.6% last week. Even with the two weekly declines, silver leads this year in gains among precious metals, climbing 24.1% since ending last year at $13.803 an ounce.
In PGM futures on Friday and for the week:
July platinum dipped $1.90, or 0.2%, to close at $1,052.10 an ounce, and logged a 3% weekly loss.

Palladium for June delivery shed $4.25, or 0.7%, to end at $592.40 an ounce, and fell 2.4% on the week.
For the year so far, platinum is 17.8% higher while palladium is up 5.4%.
London Precious Metals Prices
London precious metals moved lower on Friday and for the week. In comparing their levels from Thursday PM to Friday PM:
Gold fell $13.35, or 1%, to $1,265.90 an ounce.
Silver shed 14 cents, or 0.8%, to $17.09 an ounce.
Platinum declined $15, or 1.4%, to $1,042 an ounce.
Palladium lost $15, or 2.5%, to $592 an ounce.
For the week, losses totaled to 1.8% for gold, 1.3% for silver, 2.8% for platinum and 2% for palladium.
US Mint Bullion Coin Sales in 2016
U.S. Mint gold coin sales climbed by 12,500 ounces this week, the lowest weekly total since the one ended April 1. Gold sales reached 20,000 ounces last week. The weekly sales splits include 9,000 ounces in American Gold Eagles compared to 13,500 ounces previously, and 3,500 ounces in American Gold Buffalo compared to 6,500 ounces previously.
The U.S. Mint limited this week's sales of American Silver Eagles to 1 million coins. The Mint's network of bullion distributors ordered 97.3% of them. The remaining 27,500 coins will be carried over to the new allocation level that will be announced on Monday. 2016 Silver Eagles are at a record sales pace of 20,972,500 coins, representing a 31.2% increase over the same stretch of time in record-breaking year 2015.
Below is a sales breakdown of United States Mint bullion products with columns listing the number of bullion coins sold during varying periods of time.
US Mint Bullion Sales (# of coins)
Friday Sales
Last Week
This Week
Mar Sales
Apr Sales
May Sale
2016 Sales
$50 American Eagle 1 Oz Gold Coins
0
11,000
9,000
29,000
93,500
20,000
299,000
$25 American Eagle 1/2 Oz Gold Coins
0
3,000
0
1,000
6,000
3,000
39,000
$10 American Eagle 1/4 Oz Gold Coins
0
0
0
4,000
14,000
0
66,000
$5 American Eagle 1/10 Oz Gold Coins
0
10,000
0
75,000
55,000
10,000
385,000
$50 American Buffalo 1 Oz Gold Coins
0
6,500
3,500
7,000
19,500
10,000
89,500
$1 American Eagle 1 Oz Silver Coins
0
1,085,500
972,500
4,106,000
4,072,000
2,058,000
20,972,500
2016 Shawnee 5 Oz Silver Coins
0
0
0
0
0
0
105,000
2016 Cumberland Gap 5 Oz Silver Coins
0
0
0
0
64,000
0
64,000