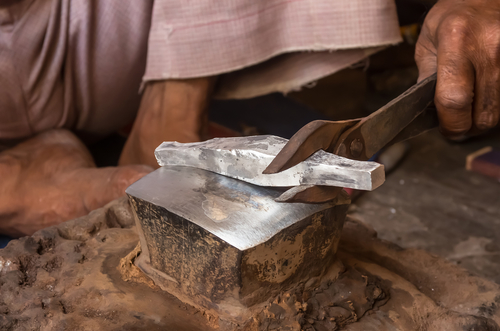 Gold and silver futures extended their weekly advances to two in a row as gold notched a more than three-week high and silver scored a five-week high.
Gold for August delivery on Friday added $3.20, or 0.3%, to settle at $1,275.90 an ounce on the Comex division of the New York Mercantile Exchange. The settlement was the highest since May 17.
"While we still expect the Fed to raise rates twice this year, the market is increasingly discounting this possibility," said ANZ Research in a note, according to Reuters. "The backdrop of easing monetary policies, negative bond yields, and a likely pause in U.S. dollar appreciation should also be supportive. This should negate some lackluster physical demand in Asia."
Gold futures advanced 2.7% this week after rising 2.2% last week. They are $215.70, or 20.4%, higher than their ending settlement in 2015 at $1,060.20 an ounce. In looking ahead to next week, Kitco News offers the following forecasts via their Wall Street vs. Main Street survey:
"Twenty-one analysts and traders took part in a survey for market professionals. Thirteen, or 62%, said they were bullish. Only three, or 14%, were bearish, while another five, or 24%, were neutral.

Meanwhile, this week's Kitco's online and Twitter surveys received combined 852 votes. A total of 633 respondents, or 74%, said they were bullish for the week ahead, while only 138, or 16%, were bearish. The neutral votes totaled 81, or 10%."
Elsewhere, silver for July delivery tacked on 6.2 cents, or 0.4%, to close at $17.33 an ounce. The settlement was the best since May 6. Silver prices soared 5.9% this week after gaining 0.6% last week. The precious metal is riding a huge wave this year, up $3.53 or 25.6%.
In PGM futures on Friday and for the week:
July platinum declined $9.60, or 1%, to $994.20 an ounce, but moved up 1.3% from a week ago.

Palladium for September delivery tumbled $14.65, or 2.6%, to $545.95 an ounce, for a 0.6% weekly decline.
Year to date, platinum is 11.3% higher while palladium is 2.9% lower.
London Precious Metals Prices
London precious metals prices moved mostly higher on Friday and for the week. In comparing their levels from Thursday PM to Friday PM:
Gold rose $11.60, or 0.9%, to $1,275.50 an ounce.
Silver added 27 cents, or 1.6%, to $17.32 an ounce.
Platinum rose $3, or 0.3%, to $996 an ounce.
Palladium declined $2, or 0.4%, to $554 an ounce.
For the week, palladium was unchanged while London prices for the other metals posted gains totaling 2.8% for gold, 7.6% for silver and 1.7% for platinum.
US Mint Bullion Coin Sales in 2016
United States Mint bullion sales logged mixed performances this week with silver coins higher and gold coins lower. In the latest week-over-week comparisons:
Gold coin sales advanced 18,000 ounces this week after rising by 24,500 ounces last week. The weekly splits include 15,000 ounces in American Gold Eagles compared to 19,000 ounces previously, and 3,000 ounces in American Gold Buffalos compared to 5,500 ounces previously

Silver coin sales advanced 1,008,500 ounces this week after rising by 650,500 ounces last week. Only American Silver Eagles were sold last week. Sales this week include 843,500 ounces in American Silver Eagles and 165,000 ounces in the new five-ounce coin depicting Harpers Ferry National Historical Park in West Virginia. The Harpers Ferry piece, the second of the five 2016-dated America the Beautiful Five Ounce Silver Bullion Coins, debuted on Monday with sales of 32,000 coins. Its total has not changed since then.
The U.S. Mint limited Silver Eagle sales this week to 1,415,500 coins. The Mint's network of bullion distributors ordered 59.6% of them. 2016 American Silver Eagles are running at a record pace with sales of 24,327,500 coins, representing a 31% increase over those sold through same time in record-breaking year 2015.
Below is a sales breakdown of U.S. Mint bullion products with columns listing the number of bullion coins sold during varying periods of time.
US Mint Bullion Sales (# of coins)
Friday Sales
Last Week
This Week
Apr Sales
May Sale
June Sales
2016 Sales
$50 American Eagle 1 Oz Gold Coins
5,000
17,000
12,500
93,500
64,500
22,000
365,500
$25 American Eagle 1/2 Oz Gold Coins
0
2,000
0
6,000
7,000
0
43,000
$10 American Eagle 1/4 Oz Gold Coins
0
0
2,000
14,000
10,000
2,000
78,000
$5 American Eagle 1/10 Oz Gold Coins
5,000
10,000
20,000
55,000
60,000
20,000
455,000
$50 American Buffalo 1 Oz Gold Coins
2,500
5,500
3,000
19,500
18,500
6,000
104,000
$1 American Eagle 1 Oz Silver Coins
81,000
650,500
843,500
4,072,000
4,498,500
914,500
24,327,500
2016 Shawnee 5 Oz Silver Coins
0
0
0
0
0
0
105,000
2016 Cumberland Gap 5 Oz Silver Coins
0
0
0
64,000
11,000
0
75,000
2016 Harpers Ferry 5 Oz Silver Coins
0
0
33,000
64,000
11,000
33,000
33,000