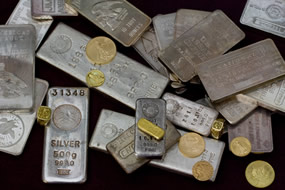 Marking their fifth straight week of losses, gold futures dropped to a more than 10-month low Friday as the U.S. dollar continued to rise against other world currencies.
Gold for February delivery declined $10.50, or 0.9%, to settle at $1,161.90 an ounce on the Comex division of the New York Mercantile Exchange. The settlement is the lowest since Feb. 5 when prices closed at $1,157.70 an ounce.
"Near term, the outlook for gold still depends on the dollar, and the inverse relationship may fade slightly due to positioning into the Fed next week," MarketWatch quoted Tyler Richey, co-editor of The 7:00's Report. "Bottom line, if the dollar rally continues, so will the golden selloff."
Gold futures shed 1.4% this week, cutting their year-to-date increase to 9.6%. In looking ahead to next week, Kitco News offers the following forecasts via their Wall Street vs. Main Street survey:
"Nineteen Wall Street analysts and traders took part in this week's survey. Eleven, or 58%, called for gold to rise. Five, or 26%, were bearish, while the remaining three, or 16%, were either undecided or expected prices to be flat.

Meanwhile, 697 Main Street participants submitted votes in either an online or Twitter survey. A total of 386 respondents, or 55%, said they were bullish for the week ahead, while 208, or 30%, were bearish. The neutral votes totaled 96, or 14%."
Lower Friday for a second day in a row, silver for March delivery fell 12.9 cents, or 0.8%, to settle at $16.967 an ounce. On Wednesday, prices rallied 2.8% to close at $17.275 an ounce.
Silver futures climbed 0.8% this week after surging 2.2% last week. Before then, the white metal strung together three weeks of losses that brought prices down by a combined 10.4%. Now, silver is $3.16, or 22.9%, higher than its 2015 closing price of $13.803 an ounce.
In PGM futures on Friday and for the week:
January platinum sank $28.80, or 3.1%, to $915 an ounce, for a 1.9% weekly decline.

Palladium for March delivery fell $4, or 0.5%, to $735.05 an ounce, registering a 1.4% loss this week.
Both metals are higher so far this year with gains of 2.4% for platinum and 30.8% for palladium.
London Precious Metals Prices
London precious metals prices were mixed Friday and on the week. In comparing their levels from Thursday PM to Friday PM:
Gold lost $7.45, or 0.6%, to $1,163.60 an ounce.
Silver fell 18 cents, or 1.1%, to $16.95 an ounce.
Platinum declined $15, or 1.6%, to $925 an ounce.
Palladium rose $19, or 2.6%, to $744 an ounce.
In their weekly changes, gold shed 0.8% while silver, platinum and palladium logged gains of 3.7%; 0.8%; and 0.1%..
US Mint Bullion Coin Sales in 2016
U.S. bullion sales were limited with the United States Mint on Tuesday announcing that its most popular coins sold out for the year. The U.S. Mint declared sellouts for the following 2016-dated bullion products:
American Eagle gold coins in 1 oz, 1/4 oz and 1/10 oz sizes,
the American Eagle silver coin, and
the Theodore Roosevelt 5 oz silver coin.
2016 Silver Eagle sales ended at 37.7 million, the 5th highest since the annual series debuted in 1986. Sales of 2016 American Gold Eagles at 984,500 ounces are the highest for a year since the 1 million ounces sold in 2011. The Mint's 2017-dated bullion coins launch on Jan. 9.
In the week-over-week bullion coin comparisons:
Gold coin sales advanced 34,000 ounces after rising 38,500 ounces previously. This week's splits include 28,500 ounces in American Gold Eagles compared to 32,000 ounces previously and 5,500 ounces in American Gold Buffalo compared to 6,500 ounces previously.

Silver coin sales advanced 244,500 ounces after rising last week by 150,000 ounces, which included some negative adjustments. This week's splits include 240,000 ounces in American Silver Eagles compared to 175,000 ounces previously and 4,500 ounces in America the Beautiful Five Ounce Silver Bullion Coins compared to the previous negative adjustment of 25,000 ounces.
Below is a sales breakdown of U.S. Mint bullion products with columns listing the number of coins sold during varying periods. Products with an asterisk (*) are no longer available.
US Mint Bullion Sales (# of coins)
Friday Sales
Last Week
This Week
Nov Sales
Dec Sales
2016 Sales
$100 American Eagle 1 Oz Platinum Coins*
–
20,000
$50 American Eagle 1 Oz Gold Coins*
–
29,000
23,000
129,000
23,000
817,500
$25 American Eagle 1/2 Oz Gold Coins
0
1,000
2,000
7,000
2,000
73,000
$10 American Eagle 1/4 Oz Gold Coins*
–
2,000
2,000
18,000
2,000
152,000
$5 American Eagle 1/10 Oz Gold Coins*
–
20,000
40,000
105,000
40,000
925,000
$50 American Buffalo 1 Oz Gold Coins
0
6,500
5,500
29,500
5,500
212,500
$1 American Eagle 1 Oz Silver Coins*
–
175,000
240,000
3,061,000
240,000
37,701,500
2016 Shawnee 5 Oz Silver Coins*
–
105,000
2016 Cumberland Gap 5 Oz Silver Coins*
–
75,000
2016 Harpers Ferry 5 Oz Silver Coins
0
0
100
1,500
100
38,100
2016 Theodore Roosevelt 5 Oz Silver Coins*
–
-2,000
800
6,600
800
40,000
2016 Fort Moultrie 5 Oz Silver Coins
0
-3,000
0
27,800
0
27,800