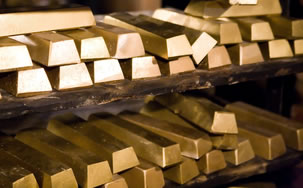 Precious metals futures climbed modestly on Friday to somewhat trim their weekly losses. Still, gold's drop this week was its biggest since mid-July.
Gold for December delivery added $1.30, or 0.1%, to settle at $1,325.90 an ounce on the Comex division of the New York Mercantile Exchange.
Earlier Friday, Federal Reserve Chair Janet Yellen gave her highly anticipated speech at the annual economic policy symposium in Jackson Hole, Wyoming.
"Before the speech, gold was up nicely, but sold off immediately once bettors saw the bit about 'the case for an increase… has strengthened in recent months'," MarketWatch quoted Brien Lundin, editor of Gold Newsletter.

"Further reading, however, showed Yellen stressing that the Fed will still be data-dependent and any increases 'gradual' — so, situation normal," he said.
Gold futures fell 1.5% this week after rising 0.2% last week. On Thursday, they ended at a one-month low. The yellow metal is now $265.70, or 25.1%, higher than its final settlement in 2015 at $1,060.20 an ounce.
In looking ahead to next week, Kitco News offers the following forecasts via their Wall Street vs. Main Street survey:
"Thirteen analysts and traders took part in the weekly Kitco News Wall Street survey, of which six participants, or 46%, called for lower gold prices next week. Five voters, or 39%, voted higher, while two, or 15%, are neutral.

Meanwhile, 1,060 Main Street participants voted on this week's online survey. A total of 606 respondents, or 57%, said they were bullish for the week ahead, while 296, or 28%, were bearish. The neutral votes totaled 158, or 15%."
Elsewhere, silver for September delivery gained 16.2 cents, or 0.9%, to settle at $18.651 an ounce. Silver futures posted their fourth straight week of losses with this latest one the most severe at 3.5%. The previous three weekly declines tagged in at 2%; 0.6%; and 2.6%.
On Thursday, silver registered its lowest settlement in two months. Despite its hefty losses recently, silver remains the best performing precious metal this year, gaining 35.1%.
In PGM futures on Friday and for the week:
October platinum inched up 70 cents to $1,077.70 an ounce, but logged a 3.6% weekly decline.

Palladium for December delivery gained $6.35, or 0.9%, to $693.75 an ounce, but dropped 2.2% on the week.
Both metals are higher on the year so far with advances of 20.7% for platinum and 23.4% for palladium.
London Precious Metals Prices
London precious metals prices were mixed on Friday and lower on the week. In comparing their levels from Thursday PM to Friday PM:
Gold declined $2.55, or 0.2%, to $1,318.75 an ounce.
Silver gained 17 cents, or 0.9%, to $18.67 an ounce.
Platinum added $3, or 0.3%, to $1,077 an ounce.
Palladium rose $5, or 0.7%, to $690 an ounce.
Their weekly losses reached to 2.1% for gold; 3.8% for silver; 2.6% for platinum; and 3% for palladium.
US Mint Bullion Coin Sales in 2016
U.S. Mint bullion coins posted stronger sales compared to a week earlier. In week-over-week comparisons:
Gold coins advanced 12,000 ounces after climbing 8,000 ounces last week. This week's splits include 9,500 ounces in American Gold Eagles compared to 6,500 ounces previously and 2,500 ounces in American Gold Buffalo coins compared to 1,500 ounces previously.

Silver coin sales advanced 432,500 ounces after rising by 257,000 ounces previously. The weekly splits are 430,000 ounces in American Silver Eagles compared to 255,000 ounces previously and 2,500 ounces in America the Beautiful Five Ounce Silver Uncirculated Coins compared to 2,000 ounces previously.

American Platinum Eagle sales rose 1,000 ounces following three weeks of no gains. All 20,000 have now sold. Buyers will have to wait until next year for more.
Below is a sales breakdown of U.S. Mint bullion products with columns listing the number of bullion coins sold during varying periods Products with an asterisk (*) are no longer available.
US Mint Bullion Sales (# of coins)
Friday Sales
Last Week
This Week
July Sales
Aug Sales
2016 Sales
$100 American Eagle 1 Oz Platinum Coins*
1,000
0
1,000
19,000
1,000
20,000
$50 American Eagle 1 Oz Gold Coins
0
5,000
6,000
30,000
37,500
473,500
$25 American Eagle 1/2 Oz Gold Coins
0
1,000
1,000
2,000
3,000
51,000
$10 American Eagle 1/4 Oz Gold Coins
0
2,000
2,000
10,000
4,000
100,000
$5 American Eagle 1/10 Oz Gold Coins
0
5,000
15,000
50,000
50,000
605,000
$50 American Buffalo 1 Oz Gold Coins
0
1,500
2,500
10,000
7,500
130,000
$1 American Eagle 1 Oz Silver Coins
0
255,000
430,000
1,370,000
1,010,000
28,630,500
2016 Shawnee 5 Oz Silver Coins*
0
0
0
0
0
105,000
2016 Cumberland Gap 5 Oz Silver Coins*
0
0
0
0
0
75,000
2016 Harpers Ferry 5 Oz Silver Coins
0
400
500
0
900
35,100