The United States Mint last Wednesday, March 3, pulled the online product page for the high-relief 2015-W $100 American Liberty Gold Coin, marking its sales end at a robust 49,325 coins.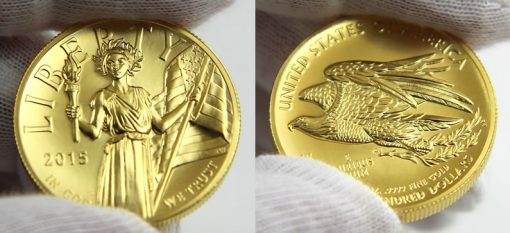 Its sales really hadn't changed much since January, and not at all through the last three reporting periods. In large part, that's because most of them sold earlier. The Mint's first-ever $100 gold piece raced on its July 30 start in spite of its $1,490 opening price. Collectors ordered an average of 9 coins per second in the first 10 minutes and sales by the fourth hour topped 35,000 coins.
From about that point, buying decelerated as the 24-karat gold coin became unavailable for several hours until its status changed to backorder. Still, the opening 4-day total reached nearly 42,000 coins, representing roughly 84% of the possible 50,000.
Ordering slackened further after the initial rush. Also, the coin's availability continued to bob up and down. Sales hit 49,211 coins by the beginning of this year and then they pretty much crawled to their eventual resting place of 49,325.
Prospective buyers of the gold coin will now have to look to the secondary market. They're currently selling for about $1,530 to $1,580 with graded 70s costing from around $1,800 to $2,000.