This short article includes a video of a U.S. Mint 225th anniversary 2017-W $100 American Liberty High Relief Gold Coin.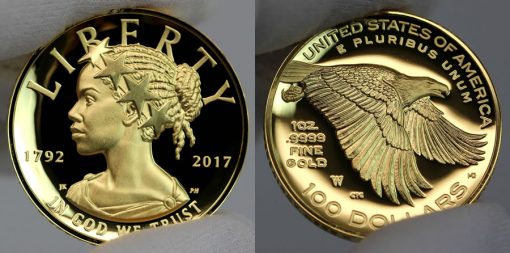 Collectors haven't scrambled to buy this year's American Liberty coin like they did for the one from 2015. The latest U.S. Mint weekly sales figures have the 2017-dated piece advancing 406 for a 25-day total of 18,913. In contrast, the 2015-dated coin almost doubled that in 24 hours with first-day sales of 36,686. It went on to post final unaudited sales of 49,325 coins. (See photos of the 2015 American Liberty.)
That first-ever U.S. $100 coin enjoyed a few advantages to include a lower launching price of $1,490, a more attractive mintage of 50,000, and favorable pent-up demand. This year's coin debuted at $1,640, has a higher limit of 100,000, and lacked the same pre-sale excitement with some panning the obverse as "angry" looking and "politically correct."
As an owner of both coins, I'm exceptionally pleased with each. They feel substantial in your hand, and their artwork is brought to life in high relief. U.S. Mint technical teams deserve extra kudos for the second coin — its frosting layers and proof finish are very complementary.
We'll publish more coin photos around mid-month. For now, here's a video of the Mint's first-ever proof $100 coin in high relief:
The 2017-W $100 American Liberty Gold Coin is currently priced at $1,690, and available from this U.S. Mint product page.