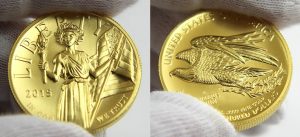 One of the U.S. Mint's most talked about products of the year is no longer available. The online ordering option for the 2015-W $100 American Liberty High Relief Gold Coin is gone. Its product page is now showing "currently unavailable."
This step is the last before a product officially sells out. Of course, it's possible that ordering could return. Here's the Mint's definition for its unavailable status:
"Currently Unavailable products have no remaining inventory in our warehouse and no additional production is scheduled. Additional inventory may be produced or become available. If so, customers who opt to receive an email notice will be notified that we are taking orders again."
See photos of the $100 American Liberty Gold Coin.
Latest Sales
The one ounce, 24–karat gold piece surged in its start, scoring sales of more than 35,000 within 4 hours of its July 30 release. By the first four days, nearly 42,000 of the maximum 50,000 had been claimed.
Demand for them then slowed. Several weekly reports in August and in September actually yanked its sales total lower. Then there was the resurgence. A color catalog the U.S. Mint mailed to its customers about 1-1/2 weeks ago boosted orders. The high relief coin was prominently featured on page 6 of the brochure. It presented two large, eye-catching images of the coin. Last week's U.S. Mint sales report had the total at 44,843 coins, up 1,923 for the biggest 7-day increase since the launch week. Figures for this week have sales up another 578 to 45,421 coins.
2015-W $100 American Liberty Gold Coins debuted at $1,490.00. The price changed several times since as gold has moved both higher and lower. The coin was last listed for $1,590.00. Its product page now has a 'Remind Me' button that lets customers sign up for an email message should more become available.