Earlier today, July 16, the United States Mint officially announced mintage and household ordering limits for the 2015 American Liberty High Relief Gold Coin. They are set at 50,000 and 50.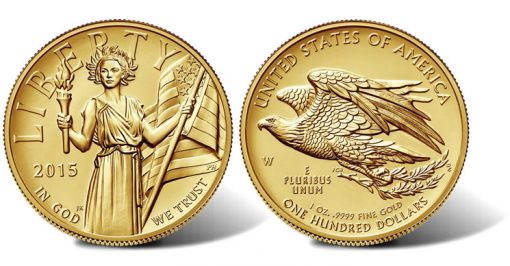 The West Point-struck $100 gold coin with a Lady Liberty obverse and an American eagle reverse launches on July 30 at noon EDT. Its opening price will be established on July 29 based on a weekly average of gold. The most likely price will be in the area of $1,540 to $1,590, and between $390 and $440 above the spot price of gold.
Demand for the .9999 fine gold coin is expected to be high, and it will not be available at any of the Mint's sales counters, only online at www.usmint.gov/catalog and via telephone at 1-800-USA-MINT (872-6468).
"Customers should be aware this could be a high-demand item. For faster ordering, customers should be on the website at noon July 30," Lateefah Simms, public affairs specialist in the Mint's Office of Corporate Communications, said in an email. "If customers have an account and are logged in, they can usually complete their purchase in under two minutes. The website can handle thousands of customers at a time, so the website is the fastest method to get an order in the system."
Earlier Mint plans had called for a one-ounce, .999 pure a high relief silver medal with the same designs as the gold coin without most of the inscriptions. That will not happen, at least in 2015.
"The Mint will not produce the American Liberty Silver Medal in 2015," Simms said. "We have not determined if this product will be released at a later date."
The U.S. Mint's product page for the 2015 American Liberty High Relief Gold Coin is located here.