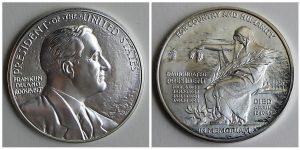 For the first time in its history, the United States Mint will issue reverse proof Presidential $1 Coins. The U.S. Mint made the announcement on Thursday in a memo to news editors that outlined the contents of the 2015 Coin and Chronicles Sets featuring Harry S. Truman, Dwight D. Eisenhower, John F. Kennedy and Lyndon B. Johnson.
Collectors have seen more reverse proofs in special collectible products recently, with the most recent use on one of the coins within the 2015 March of Dimes Silver Set (see photos of the set). Reverse proofs have frosty fields and raised mirror-like devices, which is opposite in appearance from traditional proofs.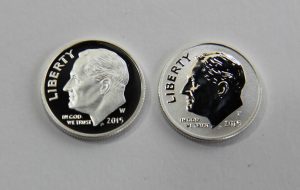 Interestingly, products limits haven't been amped up for this year's sets. They've actually been lowered to 17,000, except for the JFK set which is capped at 25,000. Last year's Franklin D. Roosevelt Coin and Chronicles Set is limited to 20,000.
Granted, FDR sets haven't selling like hot-cakes with just 62% of them claimed so far. But the inclusion of reverse proof Presidential dollars is a significant game-changer to the product line. They will only be available in the sets, and that by itself will mark them as mintage lows in the Presidential $1 Coin series. Collectors will like how they look and love their scarcity. Throw in the affordable pricing of $57.95 per set and there could be a stampede come ordering time. There will be a 5-set household ordering limit to calm the waters somewhat.
Similar to past issues, the U.S. Mint also said that each set will include a one-ounce, 99.9% pure silver medal and a stamp that is specific to each president. The Philadelphia Mint is striking the silver medals and the reverse proof dollars, with only the latter bearing the 'P' mint mark.
Harry S. Truman Coin and Chronicles Sets will go on sale June 30, 2015. The others will be staggered throughout the year with on sale dates not yet announced.