Canadian residents received a surprising invitation this week. The Royal Canadian Mint asked them to consider a unique role in celebrating Canada's 150th anniversary by designing the nation's five circulation coins.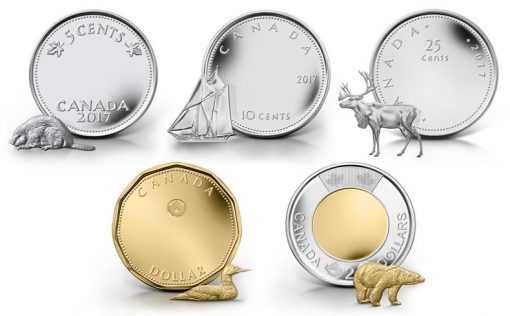 Canada turns 150 in 2017 and the Mint will strike new designs on the 5-cent, 10-cent, 25-cent, one-dollar and two-dollar coins to commemorate the sesquicentennial.
"As a curator of our nation's history, culture and values, the Mint is in a unique position to offer Canadians a rare, once-in-a-generation opportunity to change the face of our circulation coinage as a lasting tribute to Canada's 150th anniversary of Confederation," said Sandra L. Hanington, President and CEO of the Royal Canadian Mint.
Expecting thousands of design submissions, the Royal Canadian Mint created its "'My Canada, My Inspiration" contest to provide information, rules and a venue for selecting winners. The Mint wants a unique design for the reverse or tails side of each coin. As part of the contest, Canadians are encouraged to symbolize what Canada means to them by entering designs in the following theme categories:
Our Wonders – Canada's beauty, from nature to monuments.
Our Character – Values or principles which define Canadian identity.
Our Achievements – Discoveries, exploration or victories.
Our Passions – From culture to sports, to pastimes.
Canada's future – This category is reserved for Canadians 12-years of age and under for the 25-cent coin.
There is a submission deadline of April 30, 2015. After, the Royal Canadian Mint and a "panel of notable Canadians" will decide the finalists in each themed category. Public voting will select the winning designs during the month of September 2015. An official unveiling of the winners is set to happen by mid-2017.
"Not only is this your chance to create your own piece of history, but you could also win a trip to its unveiling in 2017 and $2,000 in cash," promotes the Royal Canadian Mint.
To enter a coin design and to get full contest rules and regulations, visit www.mint.ca/store/coin-design-contest/.