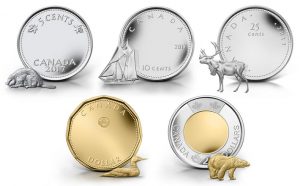 Less than a week remains in the Royal Canadian Mint's contest to design the 5-cent, 10-cent, 25-cent, loonie and toonie coins that will circulate in 2017.
On March 11, the My Canada, My Inspiration contest kicked off when the Mint asked Canadians to design these five coins as a way to celebrate Canada's 150th anniversary.
Deadline and Judging
Thursday, April 30, 2015 is right around the corner. That's the submission deadline. In the next stage, happening this spring, the Royal Canadian Mint and a panel of notable Canadians will select the finalists in each themed category. Judges will include:
The Rt. Hon. Adrienne Clarkson, PC, CC, COM, CMM, CD: Former Governor-General of Canada and journalist;
Colonel Chris Hadfield (Ret'd): Astronaut and author;
Rick Hansen: CEO of the Rick Hansen Foundation, Canadian Paralympian and advocate for people with disabilities famed for the Man In Motion World Tour;
Jan Hudec: Alpine ski racer and Sochi 2014 Winter Games Bronze medallist;
Craig and Marc Kielburger: Co-founders the Free the Children charity and of the Me to We social enterprise;
Wab Kinew: Musician, broadcaster and university administrator;
Deepa Mehta: Film director and screen writer; and
Joannie Rochette: Figure skater and Vancouver 2010 Winter Games Bronze medallist.
Then in in September 2015, public voting will choose the winning designs. An official unveiling of the winners is scheduled for mid-2017.
Visit mint.ca/canada150 for Mint-provided provided design themes, design templates and complete entry details.