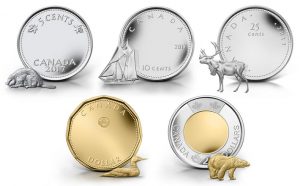 Canada turns 150 in 2017 and the Royal Canadian Mint will strike new designs on circulating 5-cent, 10-cent, 25-cent, loonie and toonie coins to celebrate the sesquicentennial.
In a contest dubbed My Canada, My Inspiration, Canadians last year were invited to submit designs for the 2017 coins and now the Mint is asking them to vote for their favorites.
"I was delighted and impressed by the artistic talent shown by Canadians in their design submissions for the coin design contest," said Sandra Hanington, President and CEO of the Royal Canadian Mint. "The next phase of the contest now lies in the hands of the public who will choose what designs best represent our country."
The Mint received more than ten thousand entries from every province and territory. From those, selected candidates rose to the top after reviews by a team of employees and internal experts at the Royal Canadian Mint and a panel of notable Canadians. Their finalist designs were unveiled this week within the following five categories:
Our Wonders – Canada's beauty, from nature to monuments.
Our Character – Values or principles which define Canadian identity.
Our Achievements – Discoveries, exploration or victories.
Our Passions – From culture to sports, to pastimes.
Canada's future – This category is reserved for Canadians 12-years of age and under for the 25-cent coin.
Now it's time for the public to vote and select the winners. Voting is online at www.mint.ca/Canada150, with selections made by simply clicking on one design choice from each of the five categories. The deadline to vote is Oct. 9, 2015.
In early 2017, the Royal Canadian Mint said it would unveil which design will go on each denomination.