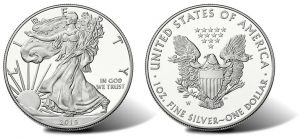 World mints will kick off 2015 this week by releasing several new coins. The United States Mint already got things started last Friday with its proof Silver Eagle.
The U.S. Mint won't release new collectibles this week, but it will launch its bullion 2015-dated American Eagle Gold (1 oz., 1/2 oz., 1/4 oz., and 1/10 oz.) and American Buffalo Gold Bullion Coins.
We'll talk about all the new coins, publish more photos of the recently issued FDR Coin and Chronicles Set, and get out new sales and some photos of the 2015 Proof American Silver Eagle.
Until then, here are last week's five most read: