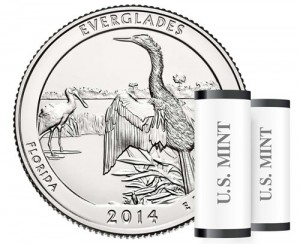 This week the United States Mint will release the last America the Beautiful Quarter and five ounce silver coin of the year.
On Monday it will begin selling rolls and bags of Everglades National Park Quarters at prices ranging from $18.95 to $46.95, and then on Thursday it will release the 2014-P Everglades National Park Five Ounce Silver Uncirculated Coin for $154.95.
Also this week, the Perth Mint of Australia and the Royal Canadian Mint will introduce new world coins.
We'll cover these topics as well as publish the latest sales figures for the 50th Anniversary Kennedy 2014 Half-Dollar Silver Coin Collection. Until then, here are last week's five most read: